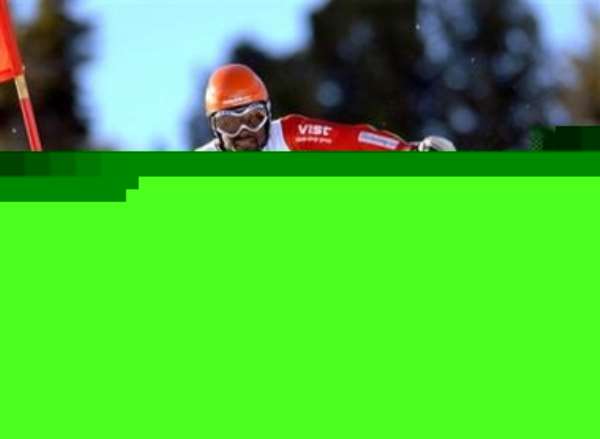 ... 'Snow Leopard' sets sights on Turin The Winter Olympics have produced some unlikely competitors over the years. There was hapless British ski jumper Eddie "The Eagle" Edwards; the Jamaican bobsledders who inspired the movie "Cool Runnings"; and Kenyan and Cameroonian cross-country skiers.
Get ready for the possibility of another novelty act in Turin next month - a 31-year-old African skier known as the "Snow Leopard." Kwame Nkrumah-Acheampong is hoping to become the first Ghanaian to compete at the Winter Olympics.
"The other racers give me a lot of support because I'm the only African dude there," he said. "Most of them are curious about what I'm trying to do, so even if I'm the last one to finish, they always congratulate me on putting two good runs together."
Nkrumah-Acheampong discovered snow for the first time while working as a receptionist at an indoor snow slope in England. Now he's hoping to race in the Olympic giant slalom against the likes of Bode Miller and Hermann Maier.
"My goal is to qualify, then ski well and to prove to people who thought it was an impossibility it is possible," he said.
Nkrumah-Acheampong was born in Glasgow, Scotland, and moved to Ghana as a child. He returned to Britain and took a job at the Xscape Snozone indoor ski center at Milton Keynes, 80 kilometres north of London, giving him free access to a 15-metre slope.
He took to the sport immediately, passed his indoor instructor's course, won a few races and asked the local coaches how he should continue his development. They joked he should enter the Olympics.
"I haven't skied for that long," Nkrumah-Acheampong said. "I'm still learning and I haven't gotten into a mould with my technique yet, so it could still be better."
Nkrumah-Acheampong has been competing in FIS races, below the elite World Cup level, in order to qualify for the Olympics. He has lowered his FIS points total from 1,000 to 215. He needs 115 to qualify for the Turin Games.
His achievements are all the more astounding considering racers have four years to qualify for the Olympics: He will have done it in eight months if all goes according to plan.
At the end of 2005, British bookmaker Ladbrokes offered odds of 10,000-1 that Nkrumah-Acheampong would win the giant slalom in Turin, or 50-1 that he would finish in the top 50.
Nkrumah-Acheampong leaves his wife and two-year-old daughter in Britain while he travels around the world chasing a dream that has posed financial hurdles from the start.
The biggest obstacle hasn't been the skiing but the fundraising. David Jacobs, his British coach and president of the Ghana Ski Federation, managed to find him secondhand gear and free accommodation in the Alps so he could train. It wasn't easy.
"It's a bit like (the film) 'Pretty Woman' - you go into shops and speak to people looking for support and they just laugh at you," Jacobs said.
Comparisons to "Cool Runnings" - the feel-good story of the Jamaican bobsledders at the 1988 Calgary Olympics - are inevitable.
"Any time people see me ski, they bring it up," Nkrumah-Acheampong said. "It's a good thing and it's how you use it that matters, because they took a chance and they made something happen. It's always inspirational to see people come from nowhere to somewhere."
Just like Eddie "The Eagle," who became a cult hero in Calgary as Britain's first and only ski jumper. He finished last.
Edwards has some words of encouragement for Nkrumah-Acheampong.
"I think it's wonderful to see these kinds of athletes competing on the world stage," said Edwards, who returned to a career as a builder after his short-lived glory. "I think for him it's about going to the Olympics and representing his country, which is great."
Nkrumah-Acheampong has received letters and e-mails from fans in Ghana and the rest of the continent.
"Lots of people have heard about it, so it's not only a 'me' thing or a Ghanaian thing but it's become an African thing," he said.
Ghana's government hasn't provided any funding because the country doesn't have a budget for winter sports. But Nkrumah-Acheampong has the government's blessing and hopes to open the way for a younger generation of skiers.
"This is the opportunity for me to introduce new, young Ghanaians to the sport and give them a better chance than I've had," he said. "It should open doors and inspire all people to try new things and different sports."