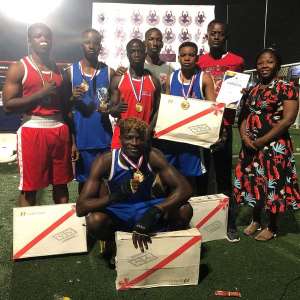 The enthusiasm, passion, and time the people of Bukom have for boxing will make them keep on producing more talents and champions.
The 2022 Homowo Boxing Championship which was supposed to start at 3 pm began at 9 pm after intermittent drizzling.
Many boxing fans who had come to Bukom Square for the action had to sacrifice to wait, it was worth it when the ring sounded for proceedings to begin.
The crowd was massive as usual and the boxers representing their clubs and Gyms also gave good accounts of themselves.
Some of the Gyms represented in the final were Wisdom Boxing Gym which won four championship medals, Jamestown Boxing Club, Attoh Quarshie Boxing Gym, Charles Quartey Boxing Foundation, and Seconds Out Gym.
Others were from Black Panthers Gym and Bukom Boxing Club.
Officiating was very fair and the referees /judges deserve applause, just like officials of the Greater Accra Boxing Association (GABA), Chairman Bernie Johnson, and Organiser Miss Sarah Lotus Asare.
Outstanding boxers and winners were presented with trophies, medals, certificates, and gas cookers.
Some who were lucky had gifts from Bronya Boxing Heerenveen who was there to motivate the young boxers.
Mr. Osabutey, the technical person representing the Greater Accra Regional Sports Authority commended the boxers for their commitment and display. He advised them to obey their coaches and parents and train hard to reach greater heights.
Mr. Bernie Johnson said the main purpose of the Tournament is to keep boxers in the region in top shape and ready for every competition be it local or international.
He hinted that the GABA has been invited to a tournament in the USA and the Homowo Boxing forms part of their preparations.
Miss Sarah Asare commended the fans who comported themselves well and the boxers for their discipline.
Abdul Wahid Omar and Joseph Commey who won bronze and silver medals respectively at the recent Commonwealth Games in Birmingham were present to inspire the boxers on the final bill.
Former Ghana Boxing Federation President Mr. George Lamptey and National coach Dr. Ofori Asare were also there to watch and encourage the boxers.