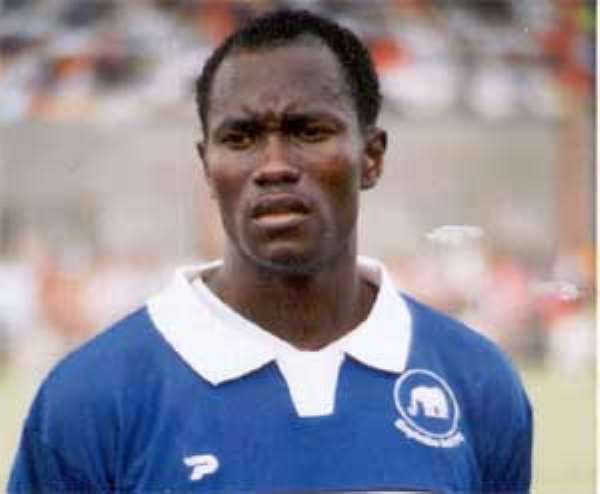 Step back in time to relive some great moments of Ghana football, back to the 1980s when Ghana football boasted of gifted footballers like Emmanuel Akwetey Quaye of Asante Kotoko and Joe Odoi of Hearts of Oak.
Despite plying their trade for rival power blocs, they had one thing in common: each lay claim to the nickname Joe Tex.
Nearly two decades on, Joe Asamoah Frimpong has burst onto the scene and could be the next big thing for the Black Stars'. He is the latest Ghanaian player to go by the nickname Joe Tex.
He may not bear any striking semblance to his illustrious namesake Joe Tex of Kotoko whose performance inspired him to adopt the name, but the young striker has warmed himself into the hearts of Ghanaians and is ready to prove that he is the new kid on the block, better known by his adopted name - Joe Tex.
It took just a few minutes on the field in a "super substitute' role to earn the plaudits as he bulldozed his way to win a spot-kick that paved the way for a in Kumasi early this month.
What a way to stake one's claim to a regular starting place in the Black Stars that could well make a historic World Cup berth by October 10.
On the strength of that display in Kumasi, Joe Tex Frimpong played no mean a role in his first full cap as the Stars rolled to a famous 2-0 victory over the Bafana Bafana at the intimidating FNB Stadium in Johannesburg last Saturday.
Among his admirers is Stars' coach Ratomir Dujkovic, who describes the striker as "strong and quick thinker with a lot of promise".
At an age when many of his contemporaries are waiting for a big opportunity to prove their worth, Joe Tex has already left his footprints on African football and is now ready for bigger challenges at the world stage, notably the European leagues, the FIFA World Cup and the Africa Nations Cup.
At 23, he is a proud winner of two African Champions League winners medals with Nigerian side, Enyimba, and a number of individual honours chalked in Nigerian football over the last decade.
He inherited the popular Joe Tex name to allow for easy identification because his native names appeared a tongue twister for Nigerians. And since he was Christened Joseph (Joe), the adopted name of Joe Tex came in natural and handy, especially as it exemplified the greatness that the two retired Joe Texs represented in their hey day.
This native of Mampong Nsuta in the Ashanti Region, is better known in Nigerian football circles where his playing career took off and eventually made a big impact, prompting interest from Nigerian football officials who tried in vain to convince him to take up Nigerian citizenship to enable him feature for the Golden Eagles.
It was not by accident that Nigeria provided the right platform for Joe Tex to lace his boots for a promising career.
Having completed O'Level at Nsutaman Secondary School at Nsuta, young Joe Asamoah Frimpong joined his parents in Nigeria where he intended to continue his education.
Typical of the tragedy that often befalls many African students who pursue a career in football, Joe Tex was so consumed by the demands of the game to an extent that he was forced to drop out of school. IBB Homas, a division three side, was the first point of call in 1996 but by mid-season the following year he was on his way to Niger Tornados for two eventful seasons.
Joe Tex quit Tornados at the end of the second season as the goal-king with 14 goals to his credit. By this time he had carved a niche for himself and Katsina United came knocking.
The opportunity of playing in the first division proved irresistible, but it was somewhat blighted by a nagging injury for most part of the 2000 season.
Even though he hit the back of the net only five times for Katsina United, Gabros FC signed him on in 2001 and he moved on to ElKanemi the following year where he became the league's top scorer with 16 goals.
However, it was at Enyimba that Joe Tex's true worth became manifest, especially in the Champions League where his scoring prowess powered the club to two back-to-back African titles. And he is on course for a record treble in Africa's premier club tournament.
Joe Tex's success story has been achieved through hardwork and a slice of luck. "I've been very fortunate in life, God has blessed me, and perhaps I may one day change my name to Lucky', he told the Graphic Sports in a light-hearted mood.
After winning two Champions League winners medal, a professional career in Europe naturally becomes the striker's next ambition, but that European dream pales in comparison with the prospect of a historic World Cup appearance for the Stars, of which the Enyimba Star has become an integral part.
"I'll be the happiest man if we qualify for the World Cup because it does not compare to anything in the world, including winning the Champions League."
"I've always been a lucky person. At Enyimba we became the first Nigerian side in 39 years to win the African Cup, and the following year we retained the title. This time we are so close to the World Cup and I have no doubt we'll qualify because God does things in his own time," the striker said.
Although his first romance with the national team may have passed almost unnoticed, the striker left an indelible mark, scoring for the Black Meteors in an Olympic qualifier against Liberia in Obuasi.
It was a good start as the player seized the opportunity offered him by then national coach, Burkhard Ziese. However, a nagging injury kept him out of the national spotlight until his prowess in the Champions League marked him out as a player Coach Dujkovic could not ignore in Ghana's World Cup journey.
Naturally, Joe Tex is counting his blessings for being a part of history. It is a prospect he is looking forward to with great expectation and is ready to play a part in rewriting the history of Ghana football.
"The World Cup is my focus because I've won two Champions League, and winning a third title does not motivate and excite me like going to the World Cup. "I can't wait for that moment and I'm going to do my best for the Black Stars to make that dream come true," Joe Tex told the Graphic Sports.
And he is already dreaming big, sort of counting his chicks before they are hatched.
"When we go to the World Cup I am sure we won't let Ghanaians down. We need their prayers because they are the ones whose prayers give us strength and hope."
Ghana's next world cup qualifier comes off on September 7 against Uganda in Kumasi.
It is the penultimate hurdle to Germany and a match the Stars must win at all cost. And one man who will be expected to lead the rout is none other than Joe Tex Frimpong.