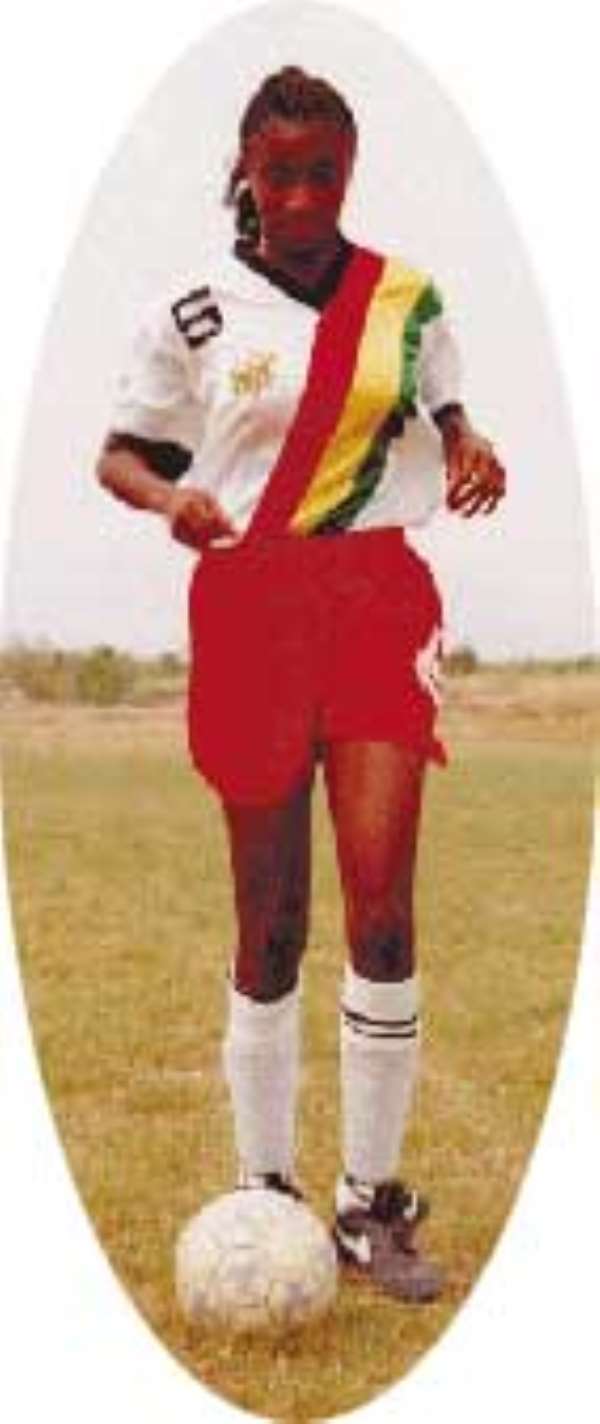 Soccer allows Portland's Mimi Osei Agyemang to experience her Ghanian heritage Mimi Osei Agyemang was a 16-year-old forward on Ghana's national soccer team, on the field for a game against African rival Nigeria in 1998.
As the countries' national anthems played, she realized she didn't know which was which.
"I was born in America. I grew up in America. My father is from Ghana," Osei Agyemang, now 22, said. "I have dual citizenship, so it's like I'm from two different places."
Osei Agyemang is, in other ways, too. She is an intellectual in a jock's body.
In a crisp white lab coat, she studies the causes of and treatments for malaria at the Northwest Veterans Affairs Cancer Research Center in Portland, an interest she developed after contracting the disease in 1998 despite taking antimalarials. In the gold jersey of Ghana's national team, she is a forward, commuting to wherever the Ghanian women's national soccer team trains or competes.
But perhaps more important than the spark she provides on the field is the voice she gives the team off it. Ghana, which will play in a doubleheader match at PGE Park on Sunday when the Women's World Cup comes to Portland, is in its second World Cup, and along with Nigeria is emerging from a part of the world that has not been a traditional power in soccer, much less in women's sports.
"I'm a voice people here can understand; that's probably my greatest contribution to the team," she said. "I think my teammates appreciate that."
Oregonians have had a front-row seat to see the Black Queens, who have trained in the state since August at Tigard High School and played eight exhibitions -- including matches against Portland State, the University of Portland and the Canadian national team -- and held several clinics.
A big reason the team came to Portland for its training camp site was Osei Agyemang's father, Simon, who convinced the Ghanian soccer delegation that coming to the United States early, living and training together and becoming acclimated to its surroundings would be key to its success in World Cup play. The team also developed an affiliation with the Southside Soccer Club.
Her father "knew there was a better chance to have good facilities here, and we would have better competitions than if we stayed in Africa," Osei Agyemang said. "It's helped us get ready to do our best."
Simon Osei Agyemang was a pretty good soccer player himself before he chose a different path, eventually becoming vice president of a credit risk management company. He moved the family 12 times through nine states, landing in Portland before Osei Agyemang's sophomore year of college.
"He really enjoyed playing, but in Ghana, then as it is now, people either choose an academic route or a sports route," she said. "He probably didn't play to the highest level he could have, but he loves the game and was my coach for several years."
It was because of her father that Osei Agyemang became more serious about the game, and about playing for Ghana, even though she had participated in Olympic development programs in North Carolina, Arizona and in Oregon.
"It was more than about soccer. It had to do with my father's legacy and my heritage," she said.
But living in two worlds, in many respects, has been a challenge.
"Being the first player in the World Cup for Ghana who isn't Ghana-born, I'm always under scrutiny, from the media and from Ghana's fans," Osei Agyemang said. "It hasn't been terrible, but we're from two different places.
"The styles of soccer are different. It's a different language with the feet. I work extra hard to try to understand what my teammates are doing, and they try to understand why I do what I do."
She has found a niche off the bench, and her play has improved as the team's play has improved. She had six appearances -- or caps -- coming into this World Cup, including a start Thursday against Russia, and she brings a different style of play onto the field.
"Ghanians play a very showy style of soccer. Ghanians are skillful, creative individuals," Osei Agyemang said. "I think I bring a more direct style that the team can benefit from. We tend to play a great game, but not have goals. No one is upset, as long as they play beautiful soccer. It's the aesthetics. I try to build toward the goal, and combine beautiful soccer with more scoring."
More goals have brought more success, and Ghana is becoming better known for its aggressive play.
The typically calm scientist/soccer player, who graduated in May from Columbia University, becomes animated talking about how, in the 1998 exhibition game, Ghana, with Osei Agyemang on the roster, played to a 1-1 draw against Nigeria, which has dominated African women's soccer since the early 1990s.
"I was the youngest player on that team," Osei Agyemang said. "They started calling me their good-luck charm."
Ghana struggled at the international level early. There were lopsided losses to Nigeria in 1991, when the Black Queens lost 7-2 and in 1995, when they lost 5-0.
Ghana broke through in December. Osei Agyemang was on Ghana's team when the Black Queens had a startling 1-0 win against Nigeria in a group match in the African Women's Championship.
"I can't properly express how it felt to clear such a hurdle," Osei Agyemang said. "It was like climbing to a great mountain top, and it's propelled us. It's those kinds of experiences that bring a team together."
Nigeria beat Ghana 2-0 to win the championship, but both teams advanced to the World Cup because Africa now has two slots. Beyond that, Ghana's win in group play and the narrowing margins of defeat against Nigeria demonstrate the Black Queens' steady improvement the past 12 years.
The Black Queens served notice that they're ready to move up from their world ranking of 53rd in the first round of this year's World Cup group play, when they lost to heavily favored China, runner-up in 1999, 1-0. Although fourth-ranked China's Sun Wen scored the game's only goal, Ghana defender Elizabeth Baidu was named player of the match.
Osei Agyemang did not start that match but came off the bench late in the game. Against Russia, in a surprise move, coach Oko Ayree benched team leader Alberta Sackey and Osei Agyemang started.
Sunday, she returns to Portland, the Ghanian soccer player, the environmental biologist, her father's daughter.
And although she used to feel more American than Ghanian, that's changing. Osei Agyemang feels the conflicts of two cultures ebbing, the divide closing.
"I feel it more, presently. It grows more every day," she said of the influence of her Ghanian heritage. "Now, it's more serious. I've been with this team for so long, I take things in and I understand. Suddenly being Ghanian defines me.
"Now, I know which national anthem is which."