Agyemang Badu's viral penalty and the Fifa U-20 World Cup triumph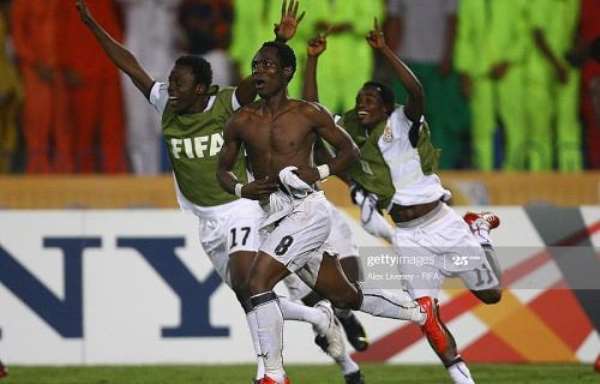 "Is it Africa? Is it Africa? It is! The Black Satellites are the first African side to win the Fifa U20 World Cup," the match-day commentator on that Friday night truly sounded like an African.
For Ghanaians, a moment of ecstacy and one name; Emmanuel Agyemang Badu will get stuck in our minds.
Along with Rabiu Mohammed in midfield, Badu marshalled the Satellites to Ghana's first continental triumph while Dominic Adiyiah and Ransford Osei worked in attack.
The tourney, played in Egypt saw Ghana showcase delightful football right from the onset.
Badu, in a one-on-one chat with Muftawu Nabila, admits they were a strong team led by a great coach.
"We knew more about ourselves here before playing in Rwanda(2009 U20 Afcon). So our triumph in Rwanda was because of our quality and the relationship with the coach.
"Anything you saw Sellas Tetteh do, believe it. It's no fluke. Because he was like a father figure to us too."
Talk of Sellas Tetteh, also known as Borbor. One of the finest youth football experts in Ghana.
Triumphed in 2009, Third place in 2013 and round of 16 in 2015. He also handled Liberty Professionals, home to Sulley Muntari, Micheal Essien, Asamoah Gyan among other Ghanaian footballers.
When Badu was named in the squad, he knew he was meeting a great coach in the youth scene.
After Rwanda, the bigger task was in Egypt. Badu, a staunch Christian from Seikwa in the Tain District, spoke with his mother before and after every game.
Asked on the most difficult games they played, he says it's South Africa and South Korea.
"Against South Africa, we met a skilled team, an academy side ready to explore so we had to be physical in most times.
"South Korea also used pace a lot. At that level, you are playing youthful guys with lots of energy.
But mentally, we were up there and that's why we were able to win," Badu added.
So the final game against Brazil is one epic clash that football fans in Ghana really remember.
A 10-man Satellites team battled to send their opponents with immense quality; Alan Kardec, William Souza, Alex Teixeira, Douglas Coasta, to a penalty shootout.
Badu remembers the memorable night before the game and the winning penalty.
"Honestly, I couldn't sleep. I was awake around 2am and I heard a knock on my door. It was Andre Ayew.
"He was going room to room to check on the guys and we had a good chat. Well, the game was at 8pm so we knew we could get some sleep in the morning.
"Then during breakfast, he confidently said we are winning the title. And he's one of the most confident persons I have ever met.
"When Daniel Addo had the red card, I was thinking Sellas Tetteh will pull off a striker and bring on a defender.
"He had different plans though. He asked to play behind Rabiu Mohammed and with Jonathan Mensah. As a defensive midfielder and a central defender.
"I was thinking of the team and I was one of the experienced lads too."
Asked on the penalty shootouts, the former Udinese man talks of his mum.
"During the technical meeting, we discussed penalties as a possibility. And Sellas told me I couldn't be part of the first five takers, I should rather wait for sudden death.
"We were left with three players. Myself, David Addy and Opoku Agyemang. Both of them weren't ready, they told me.
"So I asked myself, these two are foreign based players in Denmark and Qatar. I'm still playing in Ghana and they will not return if they miss.
Badu continued: "I have to stay off this moment. But coincidentally, I spoke with my mum before our earlier game against Uzbekistan and she said I will score that can make me famous.
"I struck the bar in that game. So that told me this might be the moment I will go viral and thankfully it happened."
That's how the young midfielder got into the hearts of football loving Ghanaians.
Later, he will move on to play in Italy and had a long career with Udinese.
Emmanuel Agyemang Badu is currently retired from international football and is focusing on his career with club Hellas Verona.