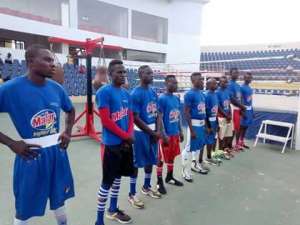 The Ghana Amateur Boxing Federation (GABF) will stage a special boxing show on Thursday, November 19, 2020, at the new Bukom Square to honour the late ex-President Jerry John Rawlings who died on November 12, 2020.,
According to President of the Federation, members of the Black Bombers, the national boxing team will thrill boxing fans.
He stated that there would be juvenile and female boxing as well as entertainment by some of the local musicians at Bukom.
He expressed that J. J. Rawlings motivated many Ghanaian boxers as he was a keen boxing enthusiast and one-time team manager of the Ghana Armed Forces Boxing team.
He said the programme will start late afternoon and end in the evening. He appealed to all boxing fans to abide by all Covid 19 protocols before they will enter the venue.
The Black Bomber began training a few days ago, and they hope to put up a good show.
Olympic Games bound Samuel Takyi urged boxing fans to come and see his new skills and punching power.