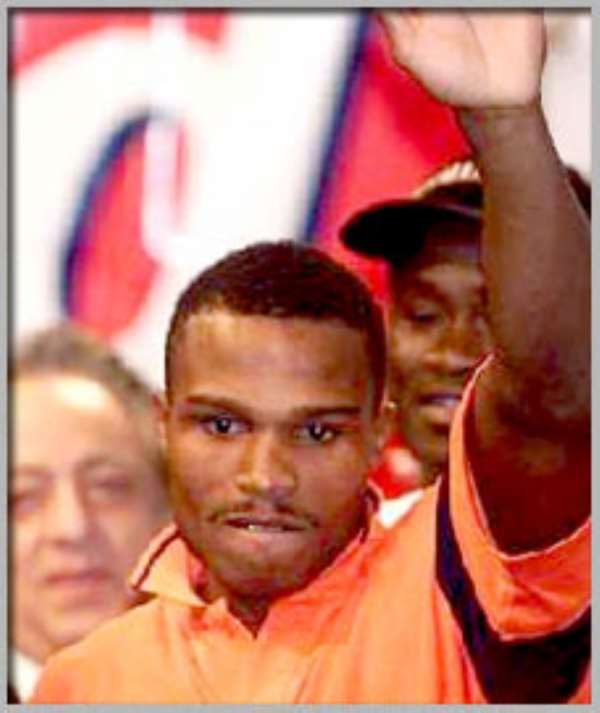 Just 24 hours after he was blatantly robbed of a well-deserved victory in a light middleweight contest against Vernon Forrest, Ghana's comeback hero, Ike Quartey, has stated categorically that he will not quit.
He made this known in an interview with the Graphic Sports last Sunday in Manhattan. Quartey, who was spotting a military green singlet and shorts, was in high spirits and seemed to have overcome the nightmare he had had at the Madison Square Garden arena the previous night.
According to him, his promoter, Lou DiBella, gave him a lot of encouragement after the fight and was even ready to give him another fight in October.
"This misfortune is definitely going to open more doors for me. I have worked so hard for this and I will definitely move forward.
Even with this so-called loss, HBO are prepared to give me a fight any day," he said. Among the many phone calls Quartey received after the fight was a surprise one from Golden Boy, Oscar De La Hoya, who denied him the WBC welterweight title in 1999.
"Like everyone else, he said that I had clearly won the fight. He encouraged me to continue with my comeback and congratulated me for a good performance," Quartey said of his conversation with De La Hoya.
The decision to carry on is one the media did not expect, especially after a dejected Quartey had told them after the fight that he had to do a lot of pondering over his future in the sport.
"I don't see any good reason why I should quit after braving through all odds to come this far. The comeback is very much alive. Ghanaians are yet to see the best of Ike Quartey," he said.
The last time Quartey fought at the Madison Square Garden was a decade ago when he successfully defended his WBA welterweight title against Oba Carr via an unanimous decision.
Yet he enjoyed so much support last Saturday from a crowd that had a minute Ghanaian composition.
On his proposed next bout in October against a yet-to-be-named opponent, Ike said "I need to take some time off so I have asked DiBella that the fight be re-scheduled for December."
Until last Saturday, Quartey had only recorded two defeats in his professional career which spans over a decade to Oscar De La Hoya and Fernando Vargas.
While both boxers awaited last Saturday's verdict in the ring, Forrest bowed his head in his corner knowing too well that the hard-hitting Ghanaian had ended his career.
However, Quartey, on the other hand, was brimming with confidence and even raised his right hand to signify victory.
But alas! He had to lower it spontaneously when celebrated ring announcer, Michael Buffer, delivered the unpleasant news. One presenter on HBO said he had to sleep and wake up the next morning to be able to believe what he heard.
The 's' and 'f' words which echoed in the big arena after the announcement gave a strong indication that the whole world had witnessed a robbery at the Garden.
Meanwhile, Quartey has decided to spend some time to cool off in the US, and is expected to return home on August 16.