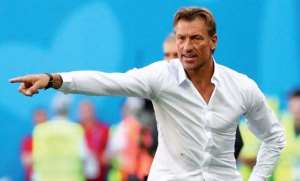 Coach Hervé Renard
French tactician, Hervé Renard is dreaming of coaching the Black Stars in the future to help Ghana end its disappointing Africa Cup of Nations (AFCON) title drought.
The West Africa Country has lifted the enviable title 4 times with the last one coming way back in 1982. Since then, it has been try and error for close to 4 decades.
While the wait to conquer the continent continues, renowned tactician and 2-time AFCON winning coach Herve Renard has expressed his desire to come to the aid of Ghana.
According to the disciplined coach, he will love to return to Ghana to help the Black Stars win the AFCON title.
"Yes, I have to come back one day to help one country to win. That country haven't won it for a longer time and that is your country Ghana. I will love to win this feat with the Black Stars", he said in an interview with Tv3's Juliet Bawuah.
Hervé Renard served as an assistant coach to Claude Le Roy when he was in charge of the Black Stars. The pair led Ghana to win bronze at the 2008 AFCON which was hosted on home soil.
He won the AFCON titles with Zambia and Ivory Coast in 2012 and 2015 respectively.