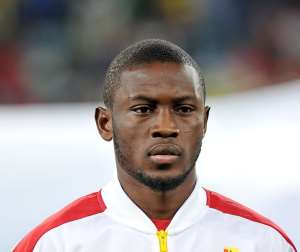 Strasbourg forward, Abdul Majeed Waris has shockingly revealed why he was left out of teh 2019 Africa Cup of Nations squad by Kwesi Appiah.
The 29-year-old was dropped ahead of the tournament despite having a fine season with FC Nantes in the French Ligue 1.
According to him, it is a pleasure to play for the national team but has lost the passion for playing for teh country due to how players are selected to the national team.
"For me, I think it's always good to play for your nation if you have the opportunity because you can always count yourself lucky if your whole country is calling on you to play for them. You are lucky," Waris told GetFootballNewsFrance in an exclusive interview.
"I feel like I've played quite a lot of games, in the beginning, I used to be very happy any time there was a national team game coming up but I've grown up to understand that there're a lot of politics around the national team when it comes to selecting players for the tournaments.
"That made me realise a lot of things and lose a bit of interest because the selection is not based on your merit, it's only based on politics. I feel like this is not very good because it's affecting the nation as well", Majeed Waris added.
On his most memorable moment in football, the 28-year-old mentioned Ghana's game against Egypt in the 2014 World cup qualifier.
"I think it was a national team game, Ghana against Egypt in the qualifiers for the 2014 World Cup in Brazil."
"We beat Egypt 6-1 – that took us to the World Cup. A few Ghanaians were worried we were going to lose the game because Egypt had a very good team.
"We were playing in Ghana, it was great weather, nice pitch and the stadium was unbelievable. It was crazy. We ended up beating them 6-1, I scored and then I think I set up two goals – the country went crazy".