Media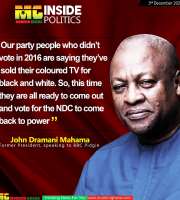 Relevant Links
Media Links
Chimpanzee and the Baboon. A chimpanzee and a Baboon went to the church and the Pastor was preaching about the creation of God, when he quoted the Bible verse "I praise You, for I am fearfully and wonderfully made. Marvelous are Your works, and I know this very well Psalm 139:14.

So the pastor told them to turn to each other and tell the other that "you are fearfully and wonderfully made".
The Baboon turned to the chimpanzee and looking closely into his face ,he giggled and said"eeeish Pastor this one de3, I can't say it .I don't want to lie in the church of God.


Author: Armstrong Adu
---
---
Top Stories
16 minutes ago

US VP arrives in Ghana on three-nation African tour
6 hours ago

Ministerial approval: NDC MPs outsmart Asiedu Nketia who wanted them to take pho...
6 hours ago

US Vice President Kamala Harris arrives in Ghana today
7 hours ago

'I didn't say I'm the messiah, I don't have those spiritual connotations; but I'...
7 hours ago

'Arrest any youth caught eating in public' — Kano State's Hisbah Board tells rel...
7 hours ago

Minority fiasco: Will NDC ever deliver for Ghanaians — Franklin Cudjoe quizzes o...
7 hours ago

Koku Anyidoho defends NDC MPs who voted to approve ministerial nominees
8 hours ago

Kenya police chief bans new opposition protests
8 hours ago

Chad's president signs pardon for 380 rebels sentenced to life in prison
8 hours ago

Replace worn out cylinder hoses, rubber seals regularly — NPA urges public