Media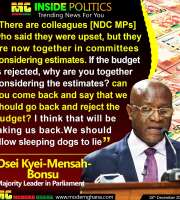 Relevant Links
Media Links
Chimpanzee and the Baboon. A chimpanzee and a Baboon went to the church and the Pastor was preaching about the creation of God, when he quoted the Bible verse "I praise You, for I am fearfully and wonderfully made. Marvelous are Your works, and I know this very well Psalm 139:14.

So the pastor told them to turn to each other and tell the other that "you are fearfully and wonderfully made".
The Baboon turned to the chimpanzee and looking closely into his face ,he giggled and said"eeeish Pastor this one de3, I can't say it .I don't want to lie in the church of God.


Author: Armstrong Adu
---
---