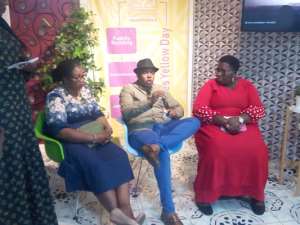 Counselors, celebrities and other stakeholders have called for effective parenting to further reduced prevalence of juvenile delinquency and moral decadence among young people.
The News Agency of Nigeria (NAN) reports that the stakeholders made the call on Thursday in Abuja at the quarterly Couples Yellow Day (CYD) forum, an interactive initiative aimed at strengthening family and relationships bonds.
According to the stakeholders, who formed a panel of conversation at the event tagged, "Parenting: Old Meets New", there was an urgent need for effective and focused parenting, to inculcate strong family values on children.
They noted that parenting in the digital age comes with huge task, and therefore requires total commitment from parents in order to sustain core values of hard work, honesty and character.
Daughter Jack, Chief Executive Officer of Treasure Productions Media and Entertainment, organisers of the event, explained that since the family was a nucleus of every society, there was need to build it on good values.
"In line with the vision of the Couples Yellow Day of celebrating and building good homes, we have gathered these stakeholders to deliberate on effective parenting as the way forward to a better society.
"A child with no proper parenting is a threat to his family and the society at large, and that is why we decided to come together and share ideas on the way forward.
"Until your legacies and values are handed down to your children, you have not finished your work as a parent," she said.
Mini Dogo, a broadcaster and author of the masterpiece, "Mum's Diary" noted that economic exigencies in modern times seem to have alienated parents from close relationship with their children.
She therefore called on parents to deliberately work towards communicating with their wards to enable them know what was happening around them.
"Values and instructions are passed by communicating, and that is why parents must create time to talk with their children, not just as parents, but as friends."
Also, Mrs Chinyere Obi-Obasi, a parent and counselor, said: "The child of today hears a lot of voices seeking his attention, therefore parents should make their voices louder than that of others to their children.
"Parents should invest their time effectively in the lives of children and must be very familiar with them and discipline them in love," she added.
Nollywood veteran and Youth mobiliser, Francis Duru, noted that that there was no perfect formula for parenting, and however noted that raising disciplined and morally responsible children was the core of parenting.
"The family forms the foundation for all other social agents to build upon and it is very important that this foundation is established properly right from the start.
"Parents must recognises the importance of quality time from the limited time available, so that they can bond with their children while imparting values and discipline," he said.
NAN reports that high point of the event was presentation of "Spoken Word" by budding poets present at the event, followed by other performances.