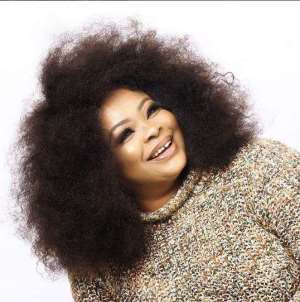 The cinema audience were jubilant to see Dayo Amusa's new production, That Which Binds Us open at the cinemas on Friday, October 5, 2018. The movie opened across cinemas in Nigeria to a wide fan base who were already eager to consume the new body of work.
Excited at the reception from fans at the opening weekend, Dayo Amusa was quick to appreciate her fans and colleagues for coming out to support her. She revealed that if this support continues, she is sure the mpvoe will break records.
The new movie, That Which Binds Us tells the story of a family tale of love, betrayal, human weakness, Individual deficiencies and sacrifice. It aims at bringing disputed broken families together and help family see through the importance of staying together amidst challenges.
The Amzadol Productions produced movie was directed by actor and politician, Desmond Elliot while starring Uche Jombo, Desmond Elliot, Dayo Amusa, Mercy Aigbe, Chinyere Wilfred, Alausa Toyin and more talented actors.
"Somehow, we didnt expect the opening weekend to be this great but what we have seen have truly encouraged us. I am very grateful to everyone who came out in their numbers to see the movie. I am also super grateful to my colleagues for their support all through. With what we are seeing this opening weekend, we believe that if this support continues, breaking records will not be difficult at all. I just want all my fans to come out and support me. Buy a ticket and buy for your friend", she concluded.
That Which Binds Us is still currently showing at the cinemas to positive acclaim.