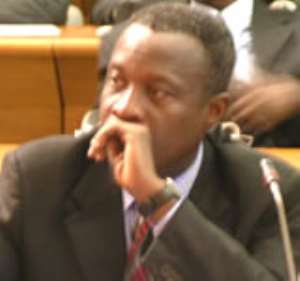 Discussions have also been held with the ADB on rehabilitation works on the Achimota - Ofankor road as well as the Nsawam - Apedwa road estimated to cost 22 million dollars and 18 million dollars, respectively.
Minister for Finance and Economic Planning, Kwadwo Baah Wiredu, announced these to journalists on his return to Accra after a week's working visit to Ouagadougou and Abuja.
The Minister, who attended the annual meeting of the ADB, which focused on Africa's development, said the Ministry of Local Government, Rural Development and Environment as well as the Accra Metropolitan Assembly (AMA) would soon deliberate on how to use the grant for the improvement of sewerage systems in Accra.
The Minister said there were several other meetings on the side, such as the one between African countries and donor countries.
He said the Abuja meeting, which was called by the Nigeria Government, the ABD and the Economic Commission for Africa, focused on the need for funding towards African development to move from 25 billion dollars to 50 billion dollars over a period of 10 years.
Mr Baah-Wiredu said it came out at the meeting that Britain had already committed 15 billion dollars to Africa's development, which took effect from April 2006 to 2015, adding that this was only committed to educational development.
He said any country, which had prepared its 10 years educational plan stood to benefit making Ghana an automatic beneficiary.
Mr Baah-Wiredu said besides Ghana, 20 other African Countries would be beneficiaries.
He said there were other initiatives towards development in the areas of road, railways energy, telecommunications and water, adding that some donor countries including the G 8 were committed to this course.
Mr Baah-Wiredu said it was very important that the grants were well utilized since it was crucial to the development within Ghana and the entire African Continent