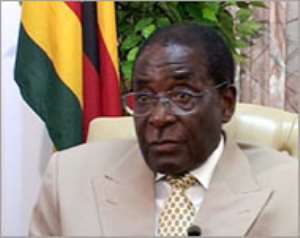 Zimbabwe's main labour federation, a key ally of the divided opposition movement, has decided to lead a national strike for higher wages.
The decision coincided with a by-election in Harare expected to test the level of popular discontent with the ruling party Zanu-PF, accused by critics of driving the country deep into crisis with an annual inflation rate now topping 1,000%.

"We are now going to be more militant than ever before because ... no matter how hard we try to co-operate with the government, without the necessary push from the streets we may not get what we want," Wellington Chibebe, the secretary-general of Zimbabwe Congress of Trade Unions (ZCTU), said on Saturday.

"The first general council meeting which we will call any time after June 16 will decide on the timetable, possibly end of June, July, August thereabouts."
He was speaking on the sidelines of a ZCTU conference ending later in the day.
Crackdown

Security forces have intensified a crackdown on the critics of Robert Mugabe, to put down protests against the Zimbabwean president threatened by the opposition Movement for Democratic Change (MDC) which has close links with the labour movement.

Voting was quiet in the by-election in Harare's Budiriro district, which is being closely watched amid signs of increasing stress in Zimbabwe's fragile political landscape.

On Friday, police arrested several senior politicians from one MDC faction, including its candidate for the Budiriro seat, accusing them of campaigning without official permission.

They were later released but are expected in court on Monday on charges of violating security laws.
Keen contest

Budiriro was represented by an MDC legislator who died in office this year. The party has since split into two factions, both of which are fielding candidates in the election, dividing the MDC vote.

Zanu-PF has vowed to capture the seat to show its political strength, despite mounting economic problems including the rampant inflation, sky-high unemployment and frequent shortages of food, fuel and other key commodities.

Election results are expected in the next few days but will do little to alter the balance of power in parliament, where Zanu-PF holds a two-thirds majority.

Mugabe, 82, blames Zimbabwe's economic problems on sabotage by domestic and Western opponents critical of his programme to seize white-owned farms to give to landless blacks.