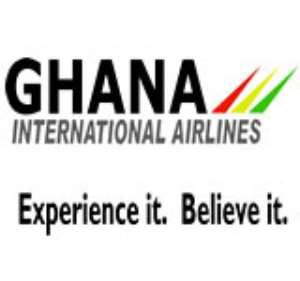 The current problems engulfing the national carrier, Ghana International
Airlines does not appear close to an end any day soon.
The airlines woeful management headed by acting CEO Azu Mate, but run by a group of highly paid expatriates continue to make mind boggling decisions resulting in more loss of revenue to the company.
The biggest cost to the airline, the $US1.9 million Radixx booking system
continues to defy believe, as more excruciating evidence of possible
malfeasance is unearthed by this writer.
The system which cost GIA some $US450,000 each month apart from the initially set up fee, was touted by former GIA Vice President and now Ghana government consultant Albert Vitale as being e-ticket compliant when he approved and signed the contract with Radixx.
My investigations have revealed that the expensive system does not meet IATA standards for e-ticketing, and is also very vulnerable and open
to fraudulent manipulations. Certain agents in the UK have been caught
cheating both the airline and passengers.
Vitale has in the past hailed the use of the so called 100% e-ticketing as one of the strong innovations that GIA was bringing into the travel industry in Ghana.
This has not only turned out to be false, but has also taken the
whole airline industry in Ghana backwards and delayed the start of the
Billing Settlement Plan (BSP)
The catalogue of revenue loss to the airline due to Albert Vitale who was on a base salary of US$225,000 per annum before he left GIA runs into over $US 2million.
They include:
• Online merchant account fiasco. No payments were ever received for all the initial tickets sold on the airlines website. So all those who bought tickets direct from the GIA website during its early days travelled for free, because the airline did not have a merchant account, and could
therefore not collect the credit and debit card payments. The amount lost
due to this incompetence is estimated at $US450,000.
• Illegally sold GIA tickets from his lap top in a London Hotel over the Christmas period last year, creating cheap fares and booking passengers and not taking care of their return journeys leading to several passengers reporting the airline to ATOL and IATA. Vitale did also not account for around $65,000 worth of tickets sold to travel agents during this period
• Allowing an associate to illegally sell on a UK travel agency, Ghana
Express account and in the process accumulating a debt of over £20,000 which Ghana Express has rightly refused to pay. When he noticed his errors, Vitale offered Ghana Express a whooping 21% commission on tickets sold (the norm is 9%)This was a key resean for the termination of his contract by GIA.
• Suspicious contract with Gold Coast Holidays to ferry passengers booked on Flyjet charter planes. This led to a $40,000 loss to the airline after Gold Coast Holidays refused to pay the cost of ferrying the passengers.
• Travel Agents have been known to easily corrupt the Radixx system,
illegally creating their own fares independent of the airlines prices. Some
agents are able to issue fake tickets which are often not detected until the
passengers have travelled. The airlines tickets can be easily replicated in
Microsoft Word
• Bought an Africa wide Radixx licence at $USD1.9m and $US 450,000 per month subscription when it was obvious that all what was needed was a system to issue tickets. This could have been purchased for a minimum of $US400, 000 saving the airline at least $US1.7m and a monthly subscription of $US 360,000.
• This is NOT to mention the fact that a twenty something year old
with no previous background in Internet or website design was hired by
the Government's special Consultant to design a Website for GIA.
• Irrelevant purchases at great cost to the airline. Vitale was previously employed by Chalk Ocean Airways, a small airline company that operates seaplanes out of Florida.
GIA also employs Sean Mendis as a Special Assistant to the CEO. This 29year old without even a University degree is paid $USD 96,000 base salary per annum by the airline. Plus free housing, travel, business entertainment, 20 days annual holidays, transportation and safety as well as a relocation allowance of $5000.
Mendis, an Indian national has very minimal airline experience and was appointed by Albert Vitale. Some of the extravagant excesses and illegalities of Mendis includes:
• Flying to Gatwick Hilton at GIA's expense in February this year to have a bath (returned on the next flight out) because the taps at his El Gaucho restaurant apartment in Accra were not flowing.
• Ordered over 100,000 disposable blankets for the airline which turned out to be inappropriate and are now sitting at GIA's warehouse.
• Very questionable credentials.
• Sold tickets to the tune of US$40,000 without paying the money to the airline.
Laddie Diaz, a Cuban American, and another pal of Albert Vitale is employed as Head of Safety and Security for the airline.
He earns US$120,000 annual base salary at GIA, plus free housing, travel, business entertainment, 20 days annual holidays, transportation and safety as well as a relocation allowance of US$10,000.
A small town policeman from Florida, Diaz has no significant experience in airline safety and security and would not even earn a quarter of his present salary in his native USA.
• Throws the name of The National Security coordinator about.
• Fed a cocktail of lies to the Chief of Staff, which subsequently led to
the storming of the GIA HQ by BNI operatives.
• Excessive use of company car late at night led to the assault of driver by armed robbers. Serious moral issues.
Phil Mwakitawa, a Kenyan but Kiev Institute educated with a heavily padded resume is Vice President of Commercial.
He earns $US 125,000 annually as base salary at GIA, roughly 3 times the amount he was earning in his previous job in charge of an out post with Kenyan Airways. Plus free housing, travel, business entertainment, 20 days annual holidays, transportation and safety as well as a relocation allowance of $US15,000.
Mwakitawa was appointed by Brian Presbury, his mentor, who stood by him when the Chief of staff questioned the basis for his appointment.
All the expatriates at GIA, with the exception of Sean Mendis do not have
work and resident permits.
Albert Vitale, the government consultant at GIA's permit was automatically revoked when his appointment was terminated in
January.
As the clouds gather over GIA, the company is continually laying off the
Ghanaian staff day in day out.
The whole Marketing Department has been sacked; the complete Human Resource Department has also been sacked, except Alex Amoako Boateng, a former NPP UK Youth Organiser who now reports
directly to the Chief of Staff.
The whole Finance Department is scheduled to be sacked next by Vitale, leaving the airline without any organised revenue and financial department.
I will leave you to guess the reason for this decision.
The airline in order to increase its passenger numbers has offered all the
staff two free air tickets for travel.
They are currently in the process of developing several suicidal promotions, which include:
• Buy a normal ticket and pay $150 to upgrade to business class; the airline will price match any fare that passengers bring.
The above proceedings are all being directed by Albert Vitale, the
government consultant and his expensively collected expatriates, but under the wings of acting CEO Azu Mate.
As Ghanaians, we can turn a blind eye to all these malfeasances, stick to our partisan politics or wake up and boldly refuse to see a second national airline go down in two years.
I will leave all this to Inspector Amoah and his group of officers at CID
headquarters to investigate.
I suspect that maybe, just maybe there might be a prima facie case for somebody to answer.
The legacies we leave today will not be for us, but for a future generation,
who will one day want to know want we did when our national airline was
being pillaged.