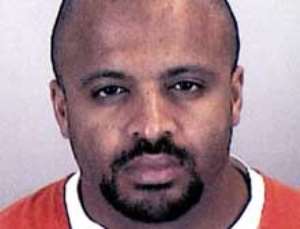 Publicly blasting the United States one last time, al Qaeda terrorist Zacarias Moussaoui was formally sentenced to life in prison Thursday for his role in the September 11 attacks.
"God curse America. God bless and save Osama bin Laden -- you will never get him," he told a packed federal courtroom that included family members of people killed in the September 11, 2001, terrorist attacks.
U.S. District Judge Leonie Brinkema responded: "You came here to be a martyr and die in a big bang of glory.
"But to paraphrase the poet T.S. Eliot, instead you will die with a whimper," she said, borrowing a line from "The Hollow Men."
The judge then followed the decision of the jury and ordered the al Qaeda terrorist to spend the rest of his natural life in prison.
Moussaoui had smiled as he walked into court, flashing a victory sign and waving sarcastically at the judge. His final tirade followed sharp remarks from three September 11 family members.
"You have branded me a terrorist, a criminal," Moussaoui said. "You should look about yourself first. I fight for my belief. I am mujahid," referring to the Arabic word for holy warrior.
"You think that you own the world, and you must admit you are wrong," Moussaoui continued.
His words turned more menacing. "We will come back another day," Moussaoui said. "As long as you don't hear, America, you will feel."
Rosemary Dillard, whose husband died in the Pentagon attack, told Moussaoui: "I've watched you twiddle your beard and make faces. I hope you sit in that jail without the sky, without the sun, without any contact with the outside world."
CNN senior legal analyst Jeffrey Toobin said Moussaoui most likely will be locked up inside the federal Supermax prison in Florence, Colorado, which is sometimes known as the "Alcatraz in the Rockies."
"It is a place of extraordinary security, 23 hours a day in cells, one hour of recreation," Toobin said. "It is as close to permanent solitary confinement as exists in our prison system."
CNN security analyst Peter Bergen said Moussaoui was a would-be terrorist, at most on al Qaeda's fringe. Bergen doubted that the plot's true masterminds -- Khalid Shaikh Mohammed and Ramzi Binalshibh -- will be brought to justice.
"It was their idea, their execution -- they're in American custody, and I don't think they're ever going to see the inside of an American courtroom," Bergen said. (Full story)
Jury chose life
A federal jury of nine men and three women decided Wednesday that Moussaoui should spend the rest of his life in prison for his role in September 11. He is not eligible for parole.
The verdict came on the jury's seventh day of deliberations. Jurors relived the September 11 attacks through weeks of harrowing testimony and evidence.
Jurors were stone-faced Wednesday as the lengthy verdict form was read in court. Spectators, including some September 11 family members, fell silent and Moussaoui showed no immediate reaction.
As he left the courtroom, Moussaoui clapped his hands and said: "America, you lost. I won."
"In terms of winners and losers, it's quite clear who won and who lost," Brinkema told him on Thursday.
"It was my choice," Moussaoui interjected from his defense table.
"It was hardly your choice," the judge replied. "You will spend the rest of your life in prison, and you will never again get a chance to speak, and that is an appropriate and fair ending.
"This trial and this verdict are clear evidence of the strength of this nation and its core values," she said.
During the trial, which began in March, jurors heard twice from an unrepentant Moussaoui, who said he is willing to kill Americans "any time, anywhere."
Moussaoui, 37, a Frenchman of Moroccan heritage, is the first person convicted in the United States for his role in the attacks. Nearly 3,000 people died when hijacked passenger jets crashed into the World Trade Center, Pentagon and a Pennsylvania field.
First U.S. 9/11 conviction
Although he was behind bars on September 11, Moussaoui pleaded guilty last year to terrorism conspiracy.
Jurors found during the trial's first phase that Moussaoui's lies to federal investigators a month before the attacks furthered al Qaeda's plot and directly resulted in at least some September 11 deaths, making him eligible for execution.
The jury rejected the death penalty in the trial's second phase. It was viewed by some as a setback for the government.
Prosecutor Robert Spencer told the court Thursday that the government's efforts were made in the name of 2,973 people killed by the hijacked planes on September 11.
"We heard stories of heroism, love, faith, pain and despair, which touched everyone in this courtroom, except than man," Spencer said, pointing at Moussaoui. "It is impossible for the rest of us to fathom his hatred and venom and murderous intent."
Moussaoui tried to get in the last word as he was led from the courtroom for the last time.
"I will be free, and my liberation will be proof that we are the soldiers of God, and you are the army of Satan. I will see you before the end of George W. Bush. Before his end, I will be out," he said.
Lisa Beilke, whose husband, Max, died in the Pentagon attack, replied, "In your dreams."