Don't Go And Join Unemployment Association — Chairman of Sunyani Technical University To Graduates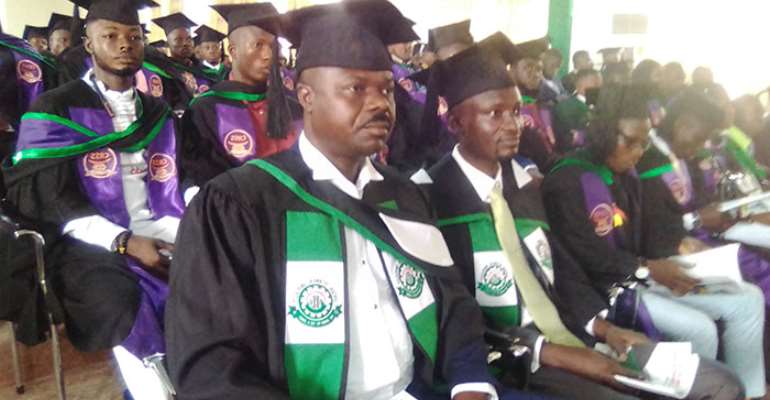 Chairman of Sunyani Technical University (STU) Council, Dr. Kwame Agyeman Boakye, has urged graduating students not to go and join unemployment graduate associations else they will be already defeated for the purpose for which they were trained.
Addressing the 12th congregation ceremony of the STU in Sunyani over the weekend, Dr. Boakye said the mandate of technical universities as provided in Act, 922 is to train students to acquire skills, technical education and applied sciences, including TVET, so they should take advantage of the skills acquired which he said could even help them to create jobs for the benefit of others.
"Don't go and ask what government is going to do for you in terms of jobs but ask yourself what I am going to do to be part of the critical drivers of the economy," he advised, adding "you have enough skills and knowledge to able to face the world of work on your own."
He charged them to form partnerships and set up businesses, saying "you must work hand in hand to create jobs for yourselves and employ others."
"The technical universities should become catalysts to catapult Ghana into industrial economy to improve the living conditions of the people. Ghana without technical education will go nowhere," he added.
The Vice Chancellor of STU, Prof. Kwadwo Adinkra-Appiah, also urged the graduates to apply the 'entrepreneurial skills' they receive and be job-creators and not job-seekers.
He bemoaned the high 'attrition' rate among lecturers, saying "this is due to disparities in conditions of service of the traditional universities and the technical universities; we shall continue to urge the government to look at our conditions of service."
He said the university was getting ready to receive the first batch of Free SHS students and was, therefore, earnestly putting up a 1,000-bed capacity hostel and also renovate three existing ones and expand lecture theatres to enhance studies.
In all, 1,554 students were awarded with degrees and diplomas.
---Daily Guide