Attorney General denies attack on Nana Konadu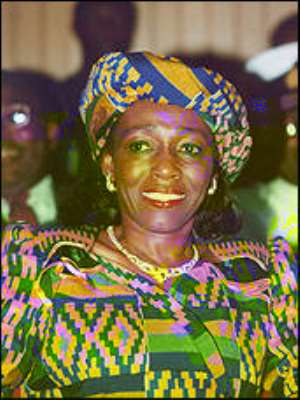 Attorney General and Minister of Justice, Ayikoi Otoo says the on-going trial of former first lady, Nana Konadu Agyeman Rawlings and others on the divestiture of GIHOC Nsawam Cannery to Caridem development is not a political trial but a matter of law.


According to him it is fallacy to state that government or for that matter the ruling New Patriotic Party (NPP) decides how cases should be judged or dictates to judges how they should rule on cases brought before them.
Mr Ayikoi Otoo announced this when he took his turn at the meet the Press series in Accra on Tuesday.
The minister stated these when a journalists enquired from him whether after the " get well " message from the President to the former President and his wife after the couple's accident in South Africa, the Caridem case involving the former President's wife would still go on.
He said the fact that the former first lady's name is involved, does not make the trial political and that neither he nor the NPP government had personal interests in prosecuting Mrs Rawlings.
Mr Ayikoi therefore asked those who are saying that to respect the institutions of state saying we sometimes depend on information gathered by the Auditor General.
The Attorney General and Minister of Justice cited a case in which an accused person facing the trial got involved in a freak accident, leading to his near incapacitation.
When the trial judge's attention was drawn to the situation of the accused, he remarked that the accused person had wanted to commit suicide because he was not sure of the outcome of his case.
"Whether one comes to court on a stretcher or whatever, that is not what determines a case in court, rather the facts available to the court determine how a case is judged," he said.
This is because judges look at the facts of the cases brought before them and after listening to both parties, rules on the case.
Asked what his comments were regarding twice defeated flag bearer of the opposition NDC party, Prof John Evans Atta Mills' call on supporters and functionaries of the Progressive Voluntary Organisation to storm the courts in support of the former first lady, Mr Ayikoi Otoo said:
"Prof Mills is a lawyer. I believe you journalists should have asked him whether as a lawyer, he believes that when more people turn up to support an accused person in court; it will influence the judgement of the case."
According to the minister what was interesting was that after encouraging NDC supporters to turn up in their numbers in court to give moral support to the people on trial, Prof Mills himself did not show up.