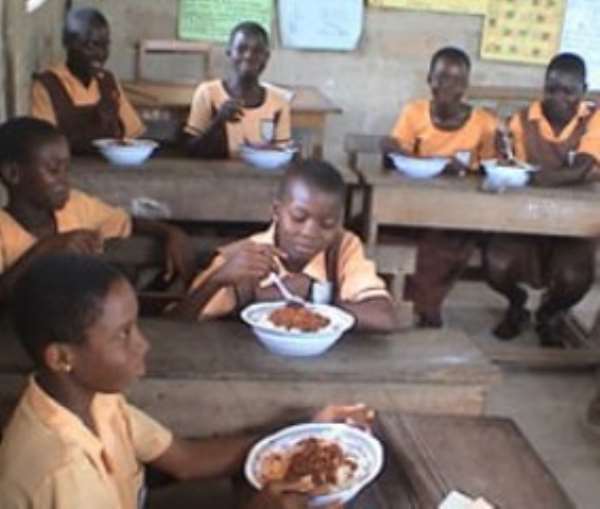 School children aged between 4 and 15 years in some five districts in the Ashanti region are to benefit from a Nutrition Friendly Schools Initiative (NFSI) spearheaded by the Ghana Health Service and the Ghana Education Service.
The UNICEF funded initiative is to support children suffering from malnourishment and other nutrition-related health conditions to ensure the holistic health of the young growing population of the country.
Baseline surveys of the Ghana Health Service point to stunting, obesity and micronutrients deficiency as the major burdens of poor nutrition among children in Ghana.
In the Ashanti region, a significant number of children are classified malnourished despite the region's categorization as a food basket for a variety of crops.
This comes with its attendant problems of poor school attendance, poor brain development and the adoption of unhealthy eating patterns that affect the child's academic and biological outcomes in later life.
NFSI is structured to use teachers and education health professionals to promote and enforce positive eating nutrition and health routines among beneficiary children.
Welcoming the team at the launch of the project, the Ashanti Regional Education Director Mary Owusu Affrieyie gave her accent for the commencement of the exercise which she described as timely.
The program is expected to come up with modalities that will cover areas of positive eating routines, physical exercises, safe environments, water and sanitation.
Explaining the motivation for the exercise, Ashanti regional nutrition officer Olivia Timpo indicated that nutrition programs have targeted infants and pregnant women to the neglect of this critical mass of children.
"This age group between 5 and 15 have been left out because we don't have information on their feeding practices, whether they eat healthy diets whether they do physical exercise. We think that we need to focus on them to reduce the triple burden of having some being stunted, some being overweight or obesed and then some suffering from micronutrient deficiency," she explained.
Deputy Director in charge of public health Dr Yaw Ofori Yeboah was optimistic the Nutrition Friendly School Initiative will be scaled up to cover other deserving districts if positive outcomes are recorded from the pilot phase.
Teachers and school health education professionals have been scheduled for training to carryout activities under the project in their various schools.
The outcomes are modelled under the United Nations Sustainable Development Goal Three which proposes an all encompassing approach towards health.
Ivan Heathcote - Fumador