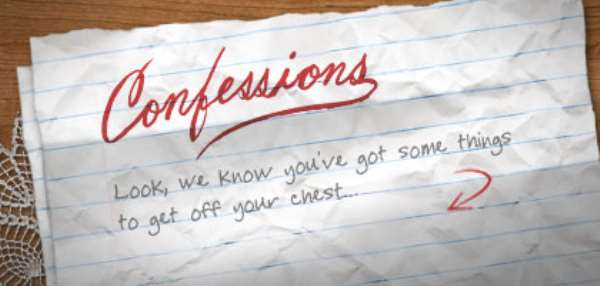 Forgive me pastor, for I have sinned. I wish to make a confession. I have spoken against the cathedral, and all citizenry who believe it is necessary. I might have spoken against the president, and a few honorables. How honorable? I do not know. I have spoken against a corrupt system. I have criticized the voice of the people. But now I realize the voice of the people is not the voice of God. For the voice of God will never be heard, at least in my country. Well, we have perforated our eardrums; we only hear so much noise, and discharge so much debris. We do not know what we pray for, and the Spirit does not bear witness for us again. We want to demolish buildings when our children sit in dust to read. And then raise other buildings when our children still sit in dust to read. We want to export nurses to Europe when Adjobue has only one community nurse. We want to take turns in who spends our money when Rwanda is 5th in efficiency of government spending. We want to fly guinea fowls and drones when Mauritius celebrates 45 years of being malaria free.
Pastor, forgive me, for I have sinned. I have lied, and cheated, and done so many wrongs. Forgive me, for I have killed innocent ones. I have caused a soul to cry. I did not help those who needed me. But more importantly, the cathedral again. There are a million and one churches already. Some even bigger than the cathedral. But our souls are as dark as the devils feet. Never seen it before though. We don't serve you as much as you would want. Those advocating for His edifice are too corrupt for his eyes to behold them. They are Solomon. They are not David. God has not told them to build. Because I know if God doesn't build the house, the builder builds in vain. We need educational reforms. We need healthcare. They don't care because they can travel outside to seek the best. Most of us even don't have passports and American embassy will always bounce us all the same so we are stuck with the few ones that have decided to stay.
We need good agricultural reforms. We want to eat what we plant. We don't Shoprite and game and max mart. We want Abokyi Farms. We want Kwaku Manu Cattle and skimmed milk. We want Aunty Muni Waakye. We want to 80% of what we eat to be homegrown.
We need good roads. The road to Lekma hospital is a death trap. The Kumasi-Accra highway has been long overdue. We don't want any Dubai. We want Bechem, and Peki, and Salaga. We want them to be beautiful for what they are. We don't any replica that doesn't have have streetlights. We want a new airport. How can we be Africa's Hub with Terminal 3. It's a flood zone. We want more, like Twist. Twist their heads if not their brains oh Lord. They know what is good but they also know where to keep the money. They kiss it in their pockets. They buy V8 for celebrities and talkatives. They take ex gratia every 4 years. They live luxuriously with fat salaries, besides the unaccounted, and still do not pay bills nor buy fuel.
Forgive me pastor for I have sinned. I have spoken unrestrained. I have spoken about issues many would die for. I have had my own share of greed and dishonesty and disloyalty. I know we are all not perfect but they used a third of Ridge's budget to build UGMC and UGMC is three times as big as Ridge. Why? We don't want just free education, we want free and quality education. If that can't be, please just give us only quality. Review our syllabus. We've used it for ages but still import toothpicks. Why? Our engineers are not given contracts. Our teachers are not respected. Our nurses are unemployed. Our degree de3, we use it for groundnuts. Who gave them that name honorable?
Forgive me pastor, for I am a talkative. I don't know when not to talk and when to stop. I want to end here. But there are million things I would have loved to say. Just as the chamber has been dropped, please God, let them drop other things. For there are far more important things we need. For I speak in tongues, and I love not my neighbor, what good shall I gain. For if we have the bank hospital, and we only put on the lights at night, who will pay PDS, sorry ECG, their bills?
Raphael B. Takyi
MB.ChB