The Embittered Ghanaian Doctors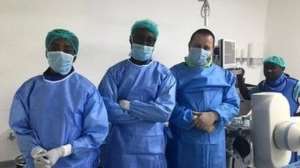 Being a Medical doctor is prestigious worldwide. Doctors are always ready anywhere to reveal their professional identity even if the forum they are present in does not require revealing their identity. One would have thought that that was enough to satisfy any medical doctor in Ghana. However, there are a group of medical doctors who are embittered and frustrated by the mere fact that the specialty they chose has Nurses who practice the same and often times more experienced than them. These group of medical doctors are the Physician Anaesthetists and Physician specialists.
WHY DO I SAY THEY ARE EMBITTERED?
In Ghana, there is a standoff between the Medical and Dental Council and Physician Assistance and Certified Registered Anesthetists. This standoff is about a nomenclature. The medical doctors do not want to hear a name in the medical field that is not subservient to them. Therefore they have devised names such Medical or Physician Assistants, Dental Assistants, Ophthalmic assistants etc.
What does assistant mean? According to the Cambridge English dictionary:
1.a person who helps someone else to do a job or who holds a less important position in an organization.
2.an employee who helps someone in a more senior position to do their job.
From the definition above A physician assistant is supposed to be someone helping a physician to do his job.
A Physician Assistant Anaesthetists is supposed to be assisting a physician Anaesthetist to do his job.
Physician assistants and CRAs are certificated professionals qualified with BSc degrees as any medical doctor. They have studied Nursing intensively for three years. The Nursing curriculum include: Anatomy and physiology, Pharmacology, Public health, Obstetrics and Gynaecology, Psychiatric, Paediatrics, Geriatrics, Oncology, pathology, Genetics, sociology, psychology, Medical Nursing, Surgical Nursing, ophthalmic Nursing, ENT Nursing, among many more.
For the sake of this write-up, I will limit myself to the Nurse Anaesthetist or Certified Registered Anesthetists(CRA).
In many countries anesthesia is administered primarily by nurses. Yet few, including many in nursing, are aware of the major contribution to health that nurses, functioning as anesthetists, make. Even some history books overlook nurses in anesthesia, and little has been written about the education, practice, and legal regulation of nurse anesthetists worldwide.
In 1978, the World Health Organization (WHO) proclaimed its goal of health for all by the year 2000, in which nurses were viewed as major contributors and anesthesia as an essential service.
Second, the idea for an international professional organization took root through which nurse anesthetists from all coun-tries could collaborate, culminating, in 1989, inthe formation of the International Federation of Nurse Anesthetists (IFNA).The IFNA was founded by nurse anesthetists from the 11 countries of Austria, Germany, Fin- land, France, Iceland, Norway, South Korea, Swe-den, Switzerland, United States, and the then Yu- goslavia. In 1993, IFNA reported that nurses may be practicing anesthesia in many other countries.
Before becoming CRA Nurses had to be in practice for a minimum of three years. They attended full-time residential Anaesthesia studies for 18 months to acquire a Diploma in Nurse. Anaesthesia.
The following curriculum for Anaesthetists worldwide was followed. Note that there is no special curriculum for physician Anaesthetists. All use the same because Anaesthesia is the same everywhere:
BASIC AND APPLIED ANATOMY
• Upper airway- nose, pharynx, larynx, trachea
• Lower airway- bronchus, alveoli, diaphragm
• Cardiovascular system
• CNS and vertebral column and canal
• Autonomic nervous system
• Foetal circulation
• Major nerves of the upper and lower extremities
• Major nerve plexuses (brachial, lumber, and sacral)
• Surface anatomy for the major nerves, veins, arteries (upper and lower limbs)
PHYSICS AND CLINICAL MEASUREMENT
• S.I. units
• Work and Energy
• Electricity
• Ultrasonic waves(Electromagnetic spectrum)
• Gas laws
• Fluid and gas dynamics
• Vaporization and vapour pressure
• Medical gases production, storage and delivery
• Recording of biological potentials
• Pressure
• Temperature
• PH
• Measurements from the catheter to display
• Gas analysis
• Monitoring of neuromuscular function
• Cardiac output
• Respiratory function tests
• Humidity, Nebulizers and humidifiers
• The anaesthetic machine and its safety features
• Anaesthetic circuits
• Mechanical ventilators
• The basic anaesthetic equipment: Laryngoscopes, Masks, laryngeal mask
airway, spinal and epidural needles
• Medical gases and gas cylinders
BASIC APPLIED PHYSIOLOGY AND BIOCHEMISTRY
• Physiology of nerve and muscle
• Respiratory system and blood gases, oxygen transport and delivery
• Cardiovascular system (heart as a pump)
• Cardiac conduction (rhythm generation and conduction)
• CNS and Autonomic nervous system
• Renal system
• Acid base system
• Electrolyte and body fluids and homeostasis
• Hepatic function
• Haematology, basic haematology functions
• Physiological changes during pregnancy
• Nutrition including TPN
• Immunology introduction
• GIT
• Fat, Protein and Carbohydrate metabolism
• Temperature
• Endocrinology
BASICAND APPLIED PHARMACOLOGY
• Pharmacokinetics and pharmacodynamics
• Inhalation anaesthesia, mechanisms and agents
• Local anaesthetics, mechanism and agents
• Intravenous anaesthesia drugs
• Analgesics, narcotics and their antagonists
• Muscle relaxants
• Anticholinergic and anticholinesterases
• Antiemetic and antihistamines
• Inotropic and pressor drugs
• Antihypertensive drugs
• Antiarrhrrythmics
• Antimicrobials and cytotoxics
• Bronchodilators
• Clinical trials
• Pharmacogenetics
• CNS drugs
• Renal drugs
STATISTICS AND RESEARCH METHODOLOGY
• Basic statistics
• How to read medical journals
• How to critique medical journals
• How to write articles
• Library studies
MEDICAL CONDITIONS INCLUDING PATHOLOGY
• Pain pathways, acute, chronic and cancer pain
• Head injury and conditions with increased intracranial pressure
• Ischaemic heart disease
• Valvular heart disease
• Hypertension, essential and other causes
• Cardiac arrhythmias
• Malignant hyperpyrexia
• Hypothermia
• Anaemia, sickle cell and other haemoglobinopathies
• Diabetes mellitus
• Acute and chronic renal failure
• Patients with liver disease
• Endocrine diseases and morbid obesity syndromes
• The patient with respiratory disease (obstructive and restrictive)
• Congenital diseases in neonatal and paediatric patients
• Arthritis and other orthopaedic problems
• Shock syndromes (hypovolemic, cardiogenic, septic, and anaphylactic)
• The psychiatric and mentally challenged
• Genetic and congenital diseases relevant to anaesthesia.
• Pregnancy related diseases
• Infections and infestations
• Connective tissue and degenerative diseases
• Neuromuscular diseases
Resuscitation and critical care management of all the above cases and their
perioperative management.
CLINICAL ANAESTHESIA
• Preoperative assessment, patient preparation for surgery
• Principles of obstetric anaesthesia
• Principles of paediatric anaesthesia
• Principles of geriatric anaesthesia
• Principles of neuro-anaesthesia
• Principles of cardiac anaesthesia
• Principles of thoracic anaesthesia
• Dental and day care anaesthesia
• Principles of mechanical ventilation (IPPV)
• The use of blood components and massive blood transfusion
• Anaesthesia for bronchoscopy and airway laser surgery
• General anaesthesia techniques and principles
• Regional anaesthesia techniques and principles
• Airway management (the normal and the difficult airway)
• Post-operative care (Recovery Room) including pain control
• Anaesthetic complications and mishaps and their prevention.
Source: Ghana College of Physicians and Surgeons.
In 2013 Ghana introduced the BSc Anaesthesia in Komfo Anokye Teaching Hospital. Anaesthetists with Diploma certificates were required to do 2 years top up for the degree. Straight Nurses do 4 years to acquire the BSc certificate in Anaesthesia following the same curriculum provided above.
After going through these courses and acquiring certificates, how do CRAs become assistants to Physicians? CRAs practice under the most difficult situations without facilities to help patients in our rural areas to survive and lead better lives. Can you imagine how our mothers, and sisters would have fared without CRAs in the district and rural health centres in complications during pregnancy.
Physician Anaesthetists are comfortable in the teaching hospitals with all the modern facilities and technology scared to venture even to a district hospital. CRAs work alone in most hospitals. Even in the Teaching hospitals where all the modern technologies for Anaesthesia exist, the physician Anaesthetists are scared to work alone in the absence of a CRA. The CRAs are well experienced practically whilst the Physicians move about claiming to be supervising. How do you supervise someone who is more experienced than you?
WHY IS KORLE-BU NOT TRAINING CRAs?
Korle-bu Teaching Hospital has been at the forefront in the dispute against CRAs.
History of Anaesthesia in Ghana is often erroneously accredited to Prof. Oduro who entered the field in 1963. At the time of his entry, about 12 Nurse Anaesthetists were already in practice. Anaesthesia in almost all hospitals in Ghana at that time were managed by expatriates with Nurses who were trained on the Job.
The first Ghanaian Physician Anaesthetist to arrive in the country was Dr Tagoe who also had a Diploma in Anaesthesia (DA). He later went to Sierra Leone. Anaesthesia was therefore largely given by nurse Anaesthetists in KBH and the rest of the country. Dr Kofi Amoah Oduro who later became a Professor, worked as a medical officer in KBH from September 1958 till August 1959. He went to Glasgow in October 1960 to specialise in anaesthesia. He obtained the Diploma in Anaesthesia (DA) in May 1961, the lrish Fellowship (FFARCSI) in May 1963 and the English Fellowship (FFARCS) in June 1963. He was appointed a Special Grade Medical Officer in Anaesthesia in KBH in August 1963. Dr Oduro became the first Ghanaian with a postgraduate Fellowship in anaesthesia. He joined the Medical School when the clinical specialties started in September/October 1966.
He was a Senior Lecturer from 1966 to 1972, Associate Professor from 1972 to 1976 and a Full Professor from 1976 to 1988 when he retired. Before 1970, nurse anaesthetists had only 3 months training, mainly on the job. From 1970 onwards, a 6-month training programme was based in KATH and Effia Nkwanta Hospital with Dr Sen Gupta and Dr Abdel Yakub being in charge of the programme. There were 8 students each at Effia Nkwanta and KATH. This was in 1974. The same trainers started a second batch in 1976. Drs Aboagye and Owusu Afram trained the 3rd batch after which the programme collapsed.
Nurse Anaesthetists have been the bedrock and backbone of Anaesthesia in Ghana till this day.
Prof. Oduro could not come to terms with the fact that despite his medical background and overseas courses, he still practiced the same profession with Nurses who probably might have taught him several techniques in Anaesthesia.
This also accounted for the refusal of doctors to specialize in Anaesthesia. To them, it was demeaning in comparison to their counterparts who specialized in Surgery, and have been able to prevent Physician Assistants from performing even minor surgeries.
Nursing is a noble profession. It is the backbone of all medical practice. It is the mother of even the Geneva conventions that regulate the conduct of war and armed conflicts in the world today courtesy Florence Nightingale.
CRAs are the saviors of Ghana's medical successes. Without CRAs pregnant women, women with ectopic pregnancies, and all emergency Surgical operations in the rural and districts in Ghana would be dead by now. Patients would have to be moved to the Teaching hospitals to line up for surgery. It would have been the richest who would survive.
The movement of CRAs from the Nurses and Midwifery Council was not because they were not proud to belong to the council. It was because Anaesthesia came under medicine and the conduct of CRAs needed to be regulated by an authority. The medical and dental council was not comfortable regulating Certified Registered Nurse Anaesthetists and therefore wanted a name change to exclude the word 'Nurse'.
They however went for a wrong title of Physician Assistants to show that CRAs are doing the job under Doctors who also practiced Anaesthesia.
Since CRAs work autonomously with full qualifications and without supervision from any Physician Anaesthetists, the title physician assistant is inappropriate. By law in Ghana today, we are CRAs and the law must be upheld.
The physician Anaesthetists can change profession and specialty if they feel belittled. They can become Surgeons or Gynaecologists which pays a lot in Ghana. CRAs cannot become Surgeons or Gynaecologists. CRAs have been the backbone of all successful surgeries in Ghana, and society must acknowledge and encourage them.
Sulleyman
CRA 1994