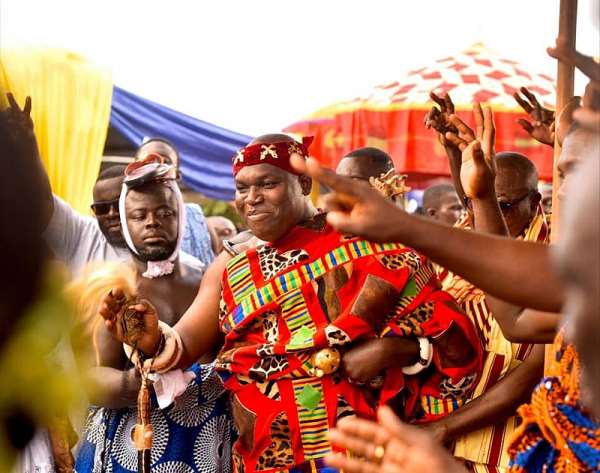 2019 has been described as a fruitful year giving hope to the future, according to Odeneho Kwafo Akoto III, Paramount Chief of Akwamu Traditional Area in the Eastern Region.
In his New Year's message, the King impressed that, Akwamuman is experiencing projects such as, the Tema to Akwamu-Mpakadan railway project and the "Akwamu" Container Port project at Korankye/Mpakadan.
Odeneho Kwafo Akoto III, is, however, calling on his people to re-engage with family and friends and also make peace with everyone in this new year.
His full post below:
THE YEAR OF CLARITY OF PURPOSE AND VISION!
A new year is an opportunity to reflect on the past year, re-engage with family and friends, make peace with one another and above all with renewed hope resolve to make further strides towards realising our ambitions.
2019 saw the continuation of our re-emergence from the shadows of our glorious past to reposition ourselves to write an even more glorious future with clarity.
There are still massive developments coming to Akwamuman: Tema to Akwamu-Mpakadan railways project, and the "Akwamu" Container Port project at Korankye/Mpakadan are blessings to Akwamuman.
We were priviledged to have hosted some celebrated personalities both privately and as special guests at our Festivals, but more importantly we celebrated our mother's 55th anniversary of enstoolment as the Queenmother of Akwamu.
Through these platforms, we have fullfilled our obligations to aid in promoting Akwamuman and Ghana as a highly desirable tourist destination and for that we have every reason to be proud.
As we usher in the New Year 2020, let us remember our loved ones we lost, whose memories are eternally etched in our hearts, but be thankful that we made it.
I love you, am proud of you and I am filled daily with gratitude to have you as my compatriots and family.
May your families see many more years to come.
Happy New Year.
Odeneho Kwafo Akoto III