Supt Setina Aboagye, the Regional Co-ordinator for Domestic Violence and Victim Support Unit (DOVVSU) the Ghana Police Service in-charge of Bono, Bono East and Ahafo Regions have said more men are reporting various cases of abuse, due to intensive public education her outfit carried out with the aim of reducing sexual and Gender-Based violence among families in the region. She said various abuse cases reported by males mostly against female increased from 66 in 2017 to 123 in 2018.
She noted that many people perceived DOVVSU to be helping women. To bridge this gap she said intensive public education through radio stations and other fora have been used to sensitize the people. "During radio programmes, they listen, and the phone-in are done by the men" she said. "It is such programmes that made most of the men to now seek justice, by reporting to DOVVSU to seek redress", she added.
Supt. Setina Aboagye made this known in an advocacy meeting organised by the Department of Gender and sponsored by United Nations Population Fund (UNFPA) in Techiman, Bono East capital, to sensitive 60 traditional and religious leaders on ending child marriage, sexual and gender bused violence as harmful traditional and culture practices.
The DOVVSU co-ordinator noted that some of the cases men reported in the house including women packing properties including that of the man after a grudge without the man's knowledge, non-maintenance mostly for children, spousal assault and some of the women not granting the men reasonable access to their children, as well defilement.
She observed that some of the women feel happy when they are reported by the men, saying their cases would now be solved. "When one man gets justice he made others to know that is why they are now reporting their cases for justice", she noted.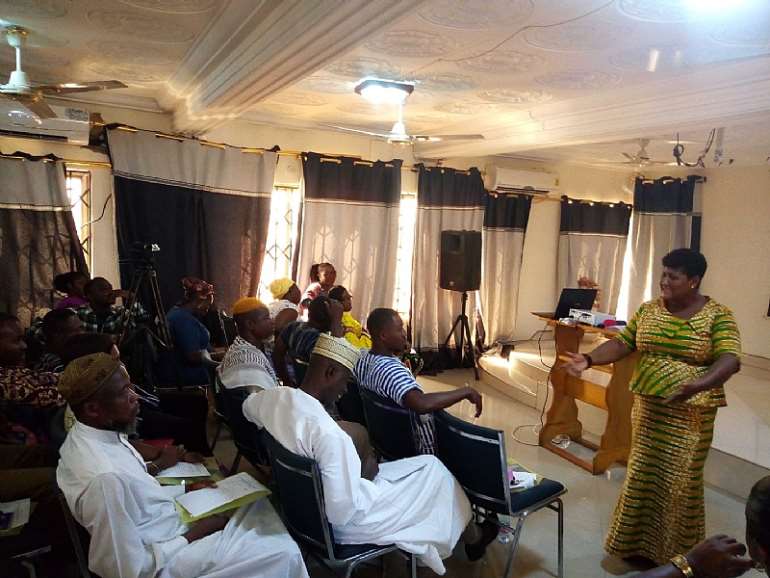 Supt. Setina Aboagye, DOVVSU Co-ordinator educating the participants on SGBV
She added that female abuse cases also increased from 795 in 2017 to 904 in 2018. She said efforts are being made to redress and justice delivered to all cases brought before the unit.
Mrs. Joycelyn Adii, the Regional Director of the Department of Gender in her welcome address said traditional leaders over the period have been the custodians of our tradition and culture and therefore are the important agents of change in ensuring long-lasting changes in our communities in regards to our traditions especially the ones that are harmful to society. She added that Religious leaders have been a backbone of society, especially in Ghana where research have shown that about 90% of people in Ghana are religious people.
These groups she noted have large number of followers who listen to them and follow their teaching religiously. Hence, strengthening them to fight Child marriage, sexual and gender-based violence and harmful traditional and cultural practices will yield the needed impact.
IMORO T. AYIBANI
TECHIMAN