Your Region Will Get Its Share – Akufo-Addo Assure Ghanaians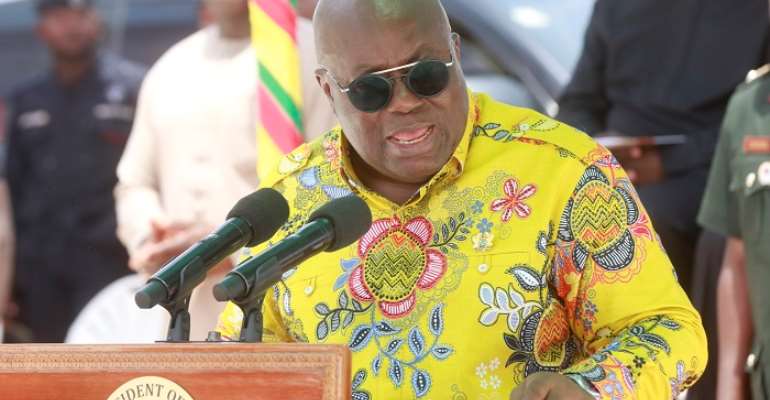 President Addo Dankwa Akufo-Addo has affirmed that there will be equitable distribution of national resources throughout the country.
He said his New Patriotic Party (NPP) government would not discriminate against any area; rather, it would ensure developmental projects reach every part of the country, particularly those in the deprived areas.
"I will make sure developmental projects are done in the entire country. I'm not going to discriminate with regard to the provision of developmental projects like what the previous government did. It provided projects based on votes but I will not do that," the President said during a tour of the Eastern Region on Saturday.
Free SHS Challenges
Addressing residents of Begoro in the Fanteakwa North District, President Akufo-Addo admitted that there were infrastructural challenges as far as the implementation of the free SHS was concerned but said the government was taking steps to resolve them.
According to him, the reason why he has decided to invest in the educational sector is to get closer to the developed countries where technology, social and economic development reign supreme.
"It is important to make the area of education in this generation broad and we cannot allow money to be a barrier to access to education in our time and for that matter it is important that Ghana foster in this era through education," he stressed.
He charged those who are going to take the exams next year to do well to shame those criticizing the Free SHS policy, saying "it is your responsibility to make sure that your grades and your exams are very positive and very exemplary."
"My plea is that there are some people in this country who never wanted this Free SHS. They described it as a gimmick and said it could not work. They said it was expensive. Now they are saying when they come back to office, they are going to review it. Those of you who are going to take your exams in June as the first Free SHS beneficiaries have a big responsibility to make sure that your grades and exam results are very positive and exemplary so that together we can say 'shame' to all of those who did not want the policy to succeed," he declared.
Police
He said upon assumption of office, the entire Police Service had only 250 vehicles to fight crime but said he had provided the police with more accoutrements to work with, including vehicles.
He disclosed that his government intended to supply more than 1,000 vehicles to the police and currently about 600 had been done.
Besides, he disclosed that the government would recruit 4,000 people into the Police Service, this year.
---Daily Guide