Allow Tribal Intermarriages To Curb Xenophobia, Ethnocentrism In Africa — Igbo King Advises Youth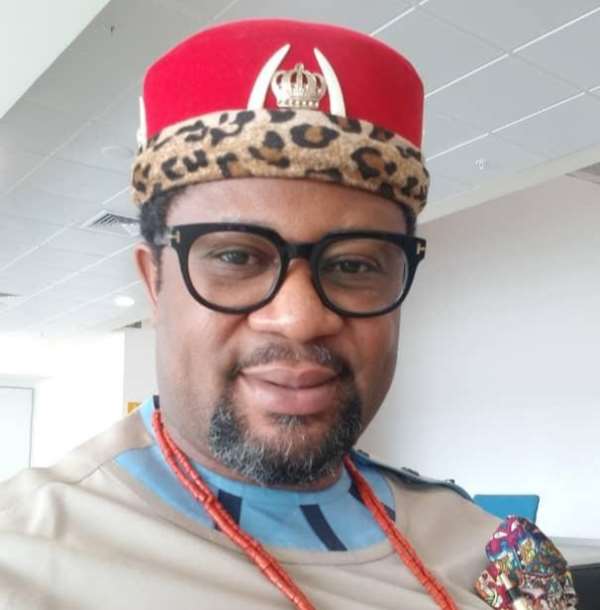 Dr. Chukwudi Jude Ihenetu (Eze Ndi Igbo, Ghana)
The King of Igbos in Ghana, His Royal Majesty Eze Dr. Chukwudi Jude Ihenetu, has called on parents to desist from preventing young people from marrying outside their ethnic groups.
He said, ethnocentrism and xenophobia within the African continent can be curbed if the youth are encouraged to mingle with others from different ethnic groups without fear or prejudice.
According to the Igbo businessman who has been married to an Akan woman for two decades, love transcends cultural and national barriers, thus the need to avoid using some tribal differences as reasons to disapprove marital unions.
Speaking to Lord Kweku Sekyi on Nigeria's 59th Independence Day Celebration, the Head of the Igbo Community in Ghana, called on African leaders to promote peaceful coexistence within the continent by encouraging trade between citizens of different countries.
He urged young Africans to acknowledge the prospects within the continent's vast market by exploring business opportunities in different countries.
The Life Patron of Nigerian Students In Ghana, added that, majority of foreign students who are enrolled in Ghanaian universities come from Igboland due to the positive manner his office promotes Ghanaian schools to them, a gesture he wants Ghana to replicate by promoting high-performing Nigerian institutions and sectors to its citizens.
He therefore called on Nigerian President, Muhammadu Buhari to prioritise education by formulating policies that will aid teaching and learning activities for the benefit of both teachers and learners.
"Nigeria could have been better than what it is today, but there is still hope that the nation will rise to achieve its full potential"
Dr. Ihenetu also called on Nigerian citizens resident in Ghana to be law-abiding, adding that he will not shield anyone who engages in criminal activities.
Nigeria, Africa's largest economy and most populous nation, gained independence from Britain on October 1, 1960.
GHANA-NIGERIA RELATIONSHIP
The relationship between Ghana and Nigeria goes as far back as the 20th century when indigenes from the two nations had already established a strong bond fuelled by trade.
Ga Adangbe migration
The Ga-Adangbe ethnic group are said to have migrated from Ile-Ife in south-western Nigeria, led by Nii Ayi-Kushi before settling at Okaikoi near Nsawam in present-day Ghana.
Gold Coast as a West African trade hub
According to Dr. Aremu Johnson Olaosebikan of the Ekiti State University's Department of History and International Studies, the Gold Coast attracted many West African settlers who engaged in various trading activities with the indigenes.
By 1931, Nigerians constituted the largest single group of immigrants residents in Ghana.
Yaa Asantewaa War 1900
In 1900, Yoruba mercenaries recruited together with other African natives into the British West African Frontier Force fought alongside British soldiers against the Asantes who were protecting their 'golden stool' from British usurpation.
Under Bristish rule
In 1917 J. E. Casely Hayford a lawyer from the Gold Coast and Dr. Akinwande, a Nigerian doctor founded the Pan-Africanist organisation, National Congress of British West Africa (NCBWA), to fight racial segregation and promote development in West Africa.
Through their agitation, the elective principle was introduced into the body politic of the British West African colonies starting with Nigeria in 1922 under the Clifford constitution, Sierra Leone in 1924 under the Slater constitution, then The Gold Coast in 1925 under the Guggisberg constitution.
Their demand for improvement in the provision of education in the region and the call for the establishment of a West African University for the four colonies culminated in the establishment of Achimota College in Ghana, the Fourah Bay College in Sierra Leone as well as the University of Ibadan in Nigeria and the University of Ghana.
Post-independence
Both West African countries, Ghana and Nigeria were colonised by Britain until their independence on March 6, 1957 and October 1, 1960 respectively.
Ghana's first president, Kwame Nkrumah's Pan Africanist movement in the 1950s/60s, attracted several African progressives from other parts of Africa and the diaspora to Ghana, making Ghana the "Mecca of African Unity.
However, after the overthrow of President Nkrumah in 1966, the new political leadership, blamed Ghana's economic woes on the influx of foreign migrants who were mostly Nigerians.
Aliens Compliance Order (1969)
Under Prime Minister, Kofi Abrefa Busia and President Edward Akufo-Addo, a new law, known as, Alien Compliance Order, was enacted in 1969 and enforced to expel thousands of migrants on short notice, many of whom sold their properties (including houses) cheaply as they departed.
Ghana Must Go (1983)
Barely 14 years later, the government of oil-booming Nigeria expelled Ghanaians who had fled to Nigeria en mass to escape Ghana's ailing economy and a period of drought, in the infamous "Ghana Must Go" of 1983.
2019 and beyond
Despite the thorny relationship, Nigeria remains one of Ghana's closest and largest trading partners with several notable companies such as Kasapreko (from Ghana) and Dangote (from Nigeria) taking advantage of the wider market.
Lord Kweku Sekyi
Western Regional Correspondent