Pupils Sit On The Floor To Learn At Bayerebon Dodowa Primary School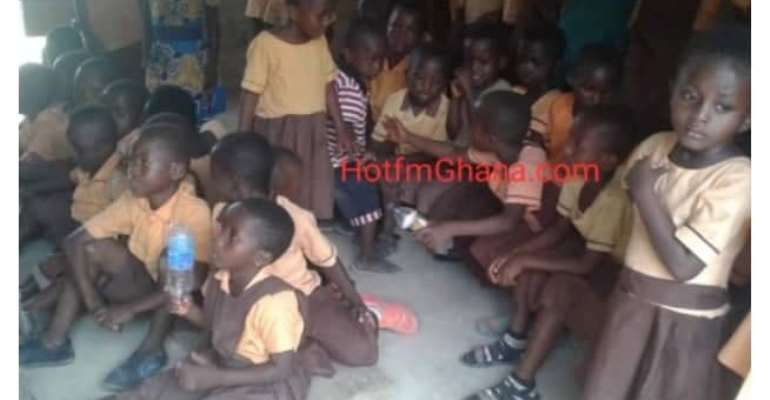 Pupils in Bayerebon Dodowa M/A Primary school at Atwima Mponua in the Ashanti Region, sit on the floor to read and write.
The unfortunately situation, according to this reporter is due to lack of desks and furniture in the classrooms.
He reported:
My visit to the school today revealed that the Dodowa community elders managed to build the classrooms to help children between the age of five and above to have access to quality education. Children walk about 30 miles to nearby communities to attend school but the elders decided to start this school to put a stop to that to the long journey.
The school has about 90 pupils; both KG one and two are combined in one class, and class one and two are also in different parts. I observed that the KG pupils had to lie on the dirty floor to write and learn as there are no tables and chairs in the classroom.
Teachers also find it difficult to move freely in the classrooms to supervise the work of the children because of lack of space due to the nature of the sitting arrangements…Pupils are also faced with poor ventilation and visibility– making learning uncomfortable for many of them.
Parents within the Dodowa community are therefore appealing to the Youth and Sports Minister who doubles as the Member of Parliament for Atwima Mponua constituency Hon. Issac Kwame Asiamah, and the District Chief Executive Officer DCE Hon. Williams Darko to come to their aid to make live better for the kids.