CWSA Adopts Business Model To Tackle Water Losses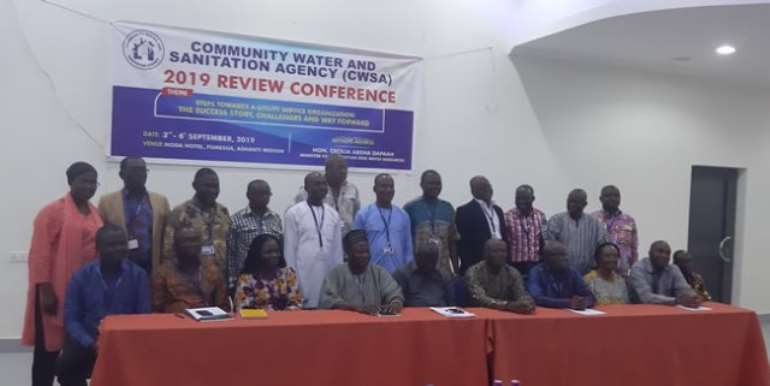 The Community Water and Sanitation Agency (CWSA) has adopted a business model to manage its operations to ensure sustainability.
Officials say the move which is part of reforms under the agency, is intended to reduce what they call non-revenue water loss.
"There is something we call in water management as non-revenue water and as part of the business we are developing, we are targeting reducing non-revenue water.
"So we are trying to go business so we can be sustainable, and it does not imply that the cost of water to communities will be high ", Chief Executive of CWSA, Engineer Worlanyo Fiabi said.
He reiterates that going business will not result in an increase in the cost of water.
"What we are trying to do is look at our operations in a business way, So that our operational cost will be down so that the cost of water will also go down," he explained.
The business model will also enhance human resource capacities to meet the skill requirements of the reform.
Non-Revenue Water Loss
Mr Fiabi further explained that non-revenue water loss means the agency is unable to determine how 60 cubic meters of water was used if 100 cubic meters were provided.
This means only 40 cubic meters is therefore available to be sold to the consuming communities.
"It is scary because when we started, it was around 60 percent non-revenue water loss.
"Eventually, the cost was high, therefore we are trying to reduce this level and these are the kind of models we are producing," he said.
Available statistics show that non-revenue water loss has reduced from 60 percent in 2017 to 42.5 percent in 2018 which officials say is not good for business.
Mr Fiabi says the new model will see the agency explore financial management risk and establish appropriate control mechanisms.
He says the initiative will ensure being managed with a stiff business model to reduce wastages.
"In any enterprise, the objective is to be profitable so the agency is looking at a situation where we can manage all of these water systems professionally.
"We want a situation where we will see our management as a business and of course when you are carrying out a business, you will provide sustainable business services. This will translate into low water tariffs."
Collaboration with Ghana Water Company Limited
The agency is, therefore, engaging the Ghana Water Company Limited to streamline activities in the bid to improve the business services of the agency as it works to become a utility operator.
Officials say the agency would explore technological and innovative approaches to improve water production and efficiency.
Board Chairman of the agency, Paa Kwesi Yankey, envisages significant reduction to consumers.
He says the move will help reduce charges by the agency to be comparably cheaper than that of Ghana Water Company Limited.
The Board Chair revealed that sometimes the agency takes water from GWCL whose pricing has built-in non-revenue water.
The agency after getting the water, build in some non-revenue cost into the cost, and what then happens is that the price charged its customers becomes high relatively .
" About a month ago we had an interaction with Ghana Water Company Limited (GWCL) and this is something that is going to continue.
"Per the discussions we are having with Ghana Water Company and the committee we have set up between the two agencies, we are going to try and level off this non-revenue water so that our prices will also go down," Mr Yankey said.
Officials observe that many especially those in rural communities are paying more for water than what is being paid in urban areas, which admittedly shouldn't be the case but that is the reality on the price.
"With this, becoming a utility operator, we are going to improve our services in such a way that we even try and go down and charge lower than what GWCL is charging
"So help us charge to turn this into a utility service, a very efficient one".
Meanwhile, officials have revealed plans to sign performance contracts to enhance performance at all operational levels.
Other Water Safety Measures
Non-revenue water has been a challenge over the years and bold steps have been taken to address this issue.
There have been the supply and installations of 404 bulk water meters and 5,750 service water meters nationwide. This has contributed to the reduction of distribution losses.
The agency will apply technology to address this problem and is currently piloting a range of prepaid meters in the eastern and greater Accra regions and other equipment
Under AF-SRWSP project, SMART TAPS which is a cashless but a prepaid water system will be introduced in the eleven regions benefitting from the sustainable rural water and sanitation project to improve revenue generation
Status of the Reforms
The overall goal of the reforms is to achieve sustainability through the creation of wealth and jobs required to improve water system operation and management.
It is also to build capacity, establish a new organizational culture and increase innovation in the sub-sector to improve WASH services delivery.
Under the Reforms, the Agency has so far participated in the management of 125 Water Systems and deployed 792 Water Systems Management Staff across the country
The Agency has also formulated a Strategic Investment Plan (SIP) spanning 2018 to 2019 to guide the implementation of reforms
The Agency has signed and evaluated performance contracts with its regional offices, engaged stakeholders on its reform directions , trained staff, redeveloped boreholes, constructed new water systems and provided logistics to water systems to deal with technical challenges.
CWSA says it will not relent on its efforts in ensuring that WASH facilities are sustainably managed to deliver safe water, water-related sanitation and hygiene services in small towns and rural communities with the support of all stakeholders.