Ghana's Honorary Consul To Bermuda Laid To Rest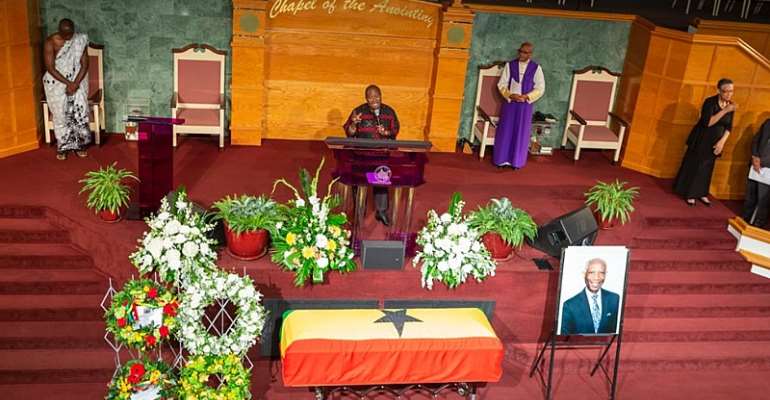 Ghana's Consul General to Bermuda, Dr Leonard Teye-Botchway who passed away on the 3rd of September 2019 was laid to rest a celebratory service in Hamilton, capital of the Island nation.
Dr Teye-Botchway, a Consultant Ophthalmic Physician and Surgeon served as Ghana's Honorary Consul General to Bermuda from the 3rd July 2011 until his demise. He was the first and only Honorary Consul of African Nation on the Island
A Deputy Minister for Foreign Affairs & Regional Integration (MFA&RI), Hon. Mohammad Habibu Tijani MP, led an 8-member delegation made up of H.E. Papa Owusu-Ankomah, Ghana's High Commissioner to the UK and Ireland, Ms. Doris Brese Director/Europe Bureau, MFA&RI, Mrs. Matilda Alomatu Osei-Agyeman, Minister/Head of Chancery at the High Commission, London, and other senior officials of the Ghana High Commission in London, and the Foreign Ministry of Ghana.
Also, HE Papa Owusu-Ankomah presented customary drinks and cash to the family of Dr. Teye Botchway.
A key highlight of the funeral service, held at the Bermuda First Church of God and attended by residents of the island from various backgrounds, was the presentation of a posthumous award to Dr Leonard Teye-Botchway on the authority of H.E. Nana Addo Dankwa Akufo-Addo, President of the Republic of Ghana, and signed by the Minister for Foreign Affairs, Hon. Shirley Ayorkor Botchwey (MP) which was read and presented to the spouse of the late Honorary Consul- Mrs. Ronita Teye-Botchway.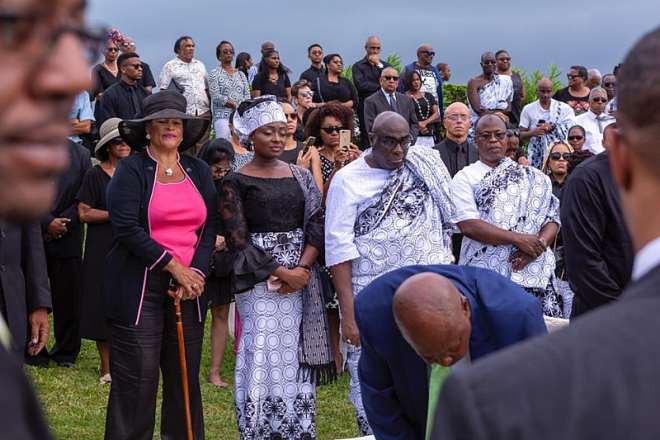 From left: Mrs Ronita Teye Botchwey, spouse of the deceased, Mrs Matilda Alomatu Osei-Agyeman, Head of Chancery, Ghana High Commission UK, HE Papa Owusu-Ankomah, Ghana High Commissioner to UK and Honourable Mohammed Habib Tijani paying their last respect to Dr Teye Botchwey.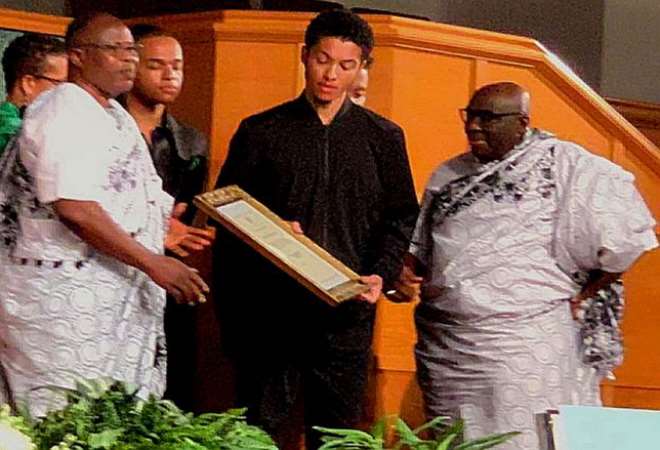 Deputy Minister of Foreign Affairs, supported by HE Papa Owusu Ankomah, presenting the posthumous award to the son of Dr Teye-Botchway.