Let's Work, Fight Against Climate Change—UNDP Advises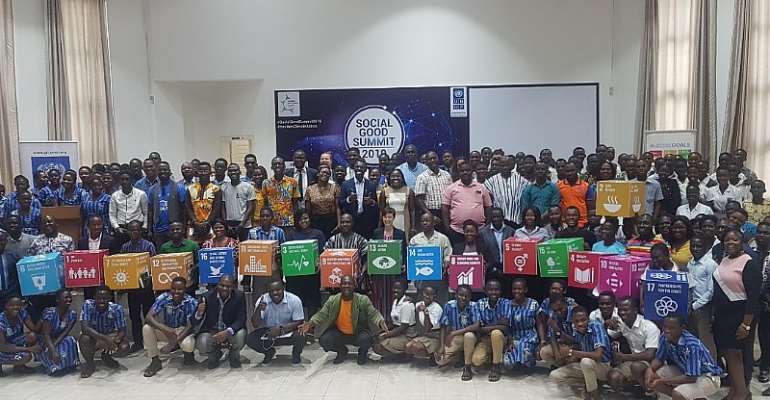 The United Nations Development Programme (UNDP) in partnership with the Ghana Climate Innovation Center (GCIC) has joined the global community to use the 2019 Social Good Summit (SGS) to bring climate action to the forefront of conversation and commit to fighting for the planet-Earth.
Silke Hollander, UNDP Ghana resident representative stated that, as part of the activities for 2019 SGS, UNDP Ghana convene a stakeholders' engagement and panel discussions on climate change. It also hosts a Youth in Climate Action video challenge with winners being celebrated at the summit, exhibitions of innovative Climate Smart Solutions and advocacy of climate change and the Sustainable Development Goals (SDGs).
This year, the theme "Take Action To Save The Planet! Climate Change Is Real" resonates with a global call on recent climate changes in the world.
She added that the summit Will to draw more attention to the sustainable goals 13 (Climate Action) and how young people can contribute to achieving it.
The summit will bring together about 500 participants made up of young people, policymakers and influencers, media, climate activist and innovators of climate smart initiative for constructive dialogue and owned action.
About Social Good Summit
Ten years ago, UNDP, Mashable, United Nations Foundation and 92nd Street Y teamed up to launch the Social Good Summit (SGS) to open up the important conversations happening at both the United Nations General Assembly and by grass-roots activists and communities to celebrate activism and galvanize support for action.
Globally, the 2019 SGS to be held in New York on 22nd September 2019, during the United Nations General Assembly week will tackle the most important issue of our time: climate change. SGS 2019 will bring together global leaders, activists, and brands for an epic day of constructive dialogue and onstage activations to amplify the voices to the climate action conversation.
Locally, UNDP county offices are critical to making the summit a uniquely inclusive, global platform for exchanging ideas, creating partnerships, engaging with communities and galvanizing support for action on the thematic area.
UNDP's Contribution to Climate Action In Ghana
UNDP, in collaboration with the ministry of environment, science, technology and innovation (MESTI) is helping vulnerable communities in Northern Ghana to better manage their water resources and diversity livelihoods. With funding from the Adaptation fund, a 4- year project support small-scale irrigation scheme and water harvesting systems to ensure year-round water availability for agriculture production and productivity.
Provision of 400 mercury-free thermometers and sphygmomanometers to health facilities in exchange for mercury-containing devices, under the medical waste project; etc.