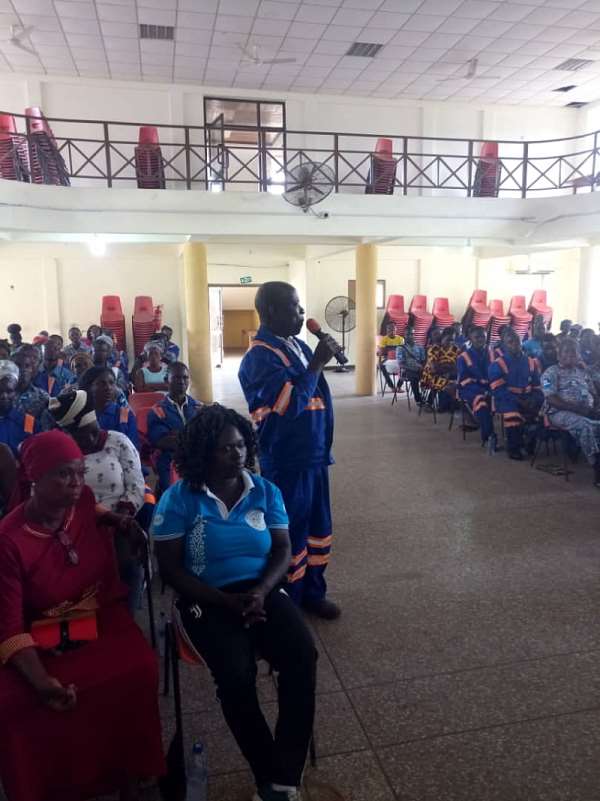 The management of the Central Regional branch of Zoomlion Ghana limited, has organized training workshop for over hundred team leaders of waste and sanitation module of Youth Employment Agency(YEA) in Cape Coast on modern practices of public clearance.
The team leaders were selected across the the region benefited from the training programme with aim to equip them with basic team leadership skills since they are the front line of the sanitation activities.
The management therefore brief the team leaders on their roles in the YEA programme, health and hygiene measures that must be observed in their day to day activities as well as basic safety.
The Central Regional Monitoring and Evaluation Officer, Mr. Isaac Dyke implored them to take the job seriously and appealed to Zoomlion to as matter of urgency provide with appropriate logistics to workers in order to ensure safety at their work place.
The facilitators took the team leaders through basic health, time management, basic management and supervisory skills, roles and scope of work of team leaders among others
Briefing the media shortly after the training, the Public Jobs Manager of Zoomlion limited, Mr. Robert Kingsley Ayemin stated that Zoomlion company is doing its best as sanitation company but it is up to public to change their attitude of littering around.