Dome-Kwabenya Roads: MP Cuts Sod For Phase Two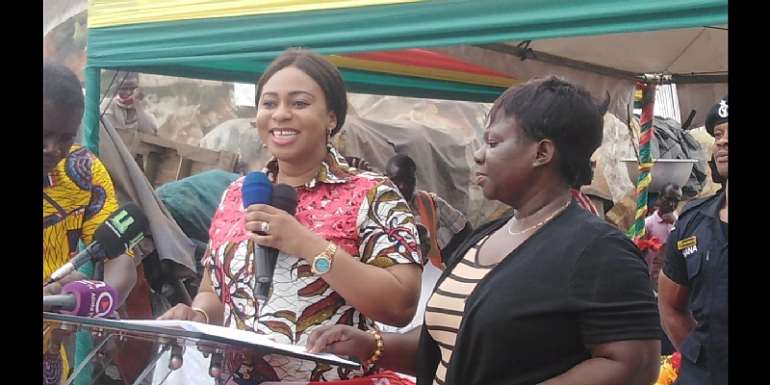 The Member of Parliament for Dome-Kwabenya, Sarah Adwoa Safo has cut sod for the commencement of phase two of roads to repair the deplorable ones in the constituency.
According to her, the project when completed will help solve most major issues affecting residents and non-residents in the Constituency.
Speaking at a sod-cutting ceremony at Dome on Tuesday, Hon. Adwoa Safo said "As the mother of the Constituency, I am very much aware of the negative effects the poor roads has caused many residents and non-residents but in all, our prayers have been answered. Dome-Kwabenya roads will see facelifts."
She added that the new construction which is 9.77km road will begin from the Dome-Adehyeman Junction to ABC Road and Dome Pillar 2 Link in her constituency.
The lawmaker who doubles as the Minister for Public Procurement revealed that there were call on the previous government to rehabilitate the roads but the plea fell on deaf ears.
She said, "Government of Ghana and Kuwait Fund for Arab Economic Development have signed a Seven Million Kuwait Dinars loan agreement to finance the Dome through Brekusu to Kitase Road Project."
The Minister for Public Procurement also revealed that project will be undertaken by Delovely Company Limited at a cost of Twenty Million, Nine Hundred and Forty Thousand, Five Hundred and Twenty-Nine Ghana Cedis, Fifty-Two pesewas (GHc20,940,529.52).
She called residents to be patient with the contractor as the project will cause lots of inconveniences to road users.
In an exclusive interview with Modern Ghana, Municipal Chief Executive Officer of Ga East Municipal Assembly, Janet Tulasi Mensah revealed that although some encroachers have taken portions of the land, she is confident the Municipality will resort to legal action when the need arises.
She said "People have built on roads. We will be taking legal actions although it will take time but once we have been tasked, we will ensure nothing crosses our path."
She hinted that regardless of the different political affiliations of the Constituents, the laws will deal with offenders when caught.
The Phase Two project is being financed by the Government of Ghana and is expected to be completed within Twenty-Four (24) months.
Joshua Kobby Smith
Journalist