A Question of Comparative Corruption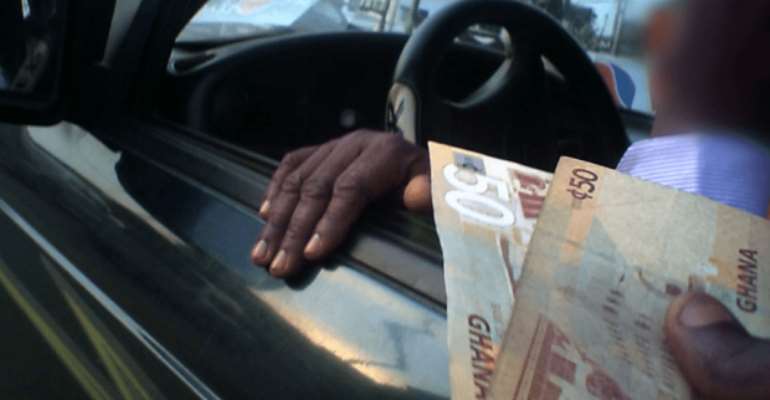 Mr. Samuel Okudzeto-Ablakwa ought to be ashamed of himself for pretending that the Mahama-led regime of the National Democratic Congress (NDC), of which he was a key junior player, was anything but corruption-free (See "This Is Not the Attitude President Akufo-Addo Should Have Adopted at GBA Conference" Ghanaweb.com 9/10/19). The North-Tongu NDC's Member of Parliament should rather be calling on those Mahama cabinet appointees who have been caught for having criminally drawn home double salaries to boldly and maturely face up to the epic music of justice like men, instead of timidly trudging back alleyways trying to roguishly negotiate themselves out of the tentacles of condign discipline or well-deserved prosecution, as Mr. Haruna Iddrisu, the Parliamentary Minority Leader, was reported to have done not very long ago.
You see, no avid observer of Ghanaian political culture would be so naïve as for even a split-second suppose that when it comes to the critical subject of official theft and corruption, that there is any fundamentally significant difference between the Mahama-led regime of the National Democratic Congress and the Akufo-Addo-led ruling New Patriotic Party (NPP). The real difference here is, of course, the fact that despite the stentorian political talk about rank corruption having fitfully gripped a remarkable number of the Akufo-Addo appointees, the true fact of the matter is that when it comes to an objective assessment of their comparative performance records, Mr. John Dramani Mahama is absolutely no classmate of President Addo Dankwa Akufo-Addo. And this is precisely what Ghanaian voters ought to be looking at and thinking about as they enter the polling booth come December 7, 2020 or thereabouts.
You see, so thoroughly entrenched has corruption been woven into the fabric of Ghana's political culture, largely by 30 years of P/NDC rule, that it is inexcusably absurd for the hypocritical likes of Mr. Ablakwa to smugly presume that the right posture that the President ought to have assumed when he recently appeared before the annual confab of the Ghana Bar Association (GBA), was to have inadvisably or gratuitously taken the blame for a disease that was almost exclusively reintroduced into our national political culture by self-preening and self-righteous "Housecleaning Revolutionaries" like the Rawlings-Tsikata Diarchy. You see, Mr. Ablakwa, "contrition" is when the entire top leadership of the National Democratic Congress that colluded with Mr. Alfred Agbesi Woyome to bilk the nation to the humongous tune of GHȻ 51.2 Million, turns round to deviously pretend as if, in the publicly stated opinion of the late President John Evans Atta-Mills, such inexcusable act of criminality was actually a positive and an emulative contribution to the development of Ghana's economy.
If, indeed, as Mr. Ablakwa so obscenely claims, Nana Akufo-Addo has earned the "inglorious reputation of a Master Clearing Agent for Corruption," then, of course, it goes without saying that former President John Dramani Mahama incontrovertibly epitomizes the very fabric and soul of official corruption. What with the Ford Expedition SUV Payola Affair? And the Akonfem (Guinea Fowl) financial racket? And the execrable ethno-regional patently tribalistic implementation of the massive fiasco that was the so-called Savannah Accelerated Development Authority (SADA)? I mean, if the key operatives of the National Democratic Congress really cared about the development of Ghana as a whole, they would not have re-nominated for president a man whose sole political objective is to shamelessly play northerners and non-Akans against Ghana's Akan majority citizenry, in the dubious and farcical name of abject British colonial neglect of northern-descended Ghanaians and the imperative necessity for the Akan to dearly pay for the same.
Why doesn't Mr. Mahama take his phantom and pathologically self-serving battle up with Westminster or Buckingham Palace or both? And to think of having such a clinically demented corrupt scam-artist recolonizing Ghana's Akan ethnic majority all in the name of "massive uncompleted projects," constitutes the very height of murderous and seditious criminality.
*Visit my blog at: kwameokoampaahoofe.wordpress.com Ghanaffairs
By Kwame Okoampa-Ahoofe, Jr., PhD
English Department, SUNY-Nassau
Garden City, New York
September 12, 2019
E-mail: [email protected]