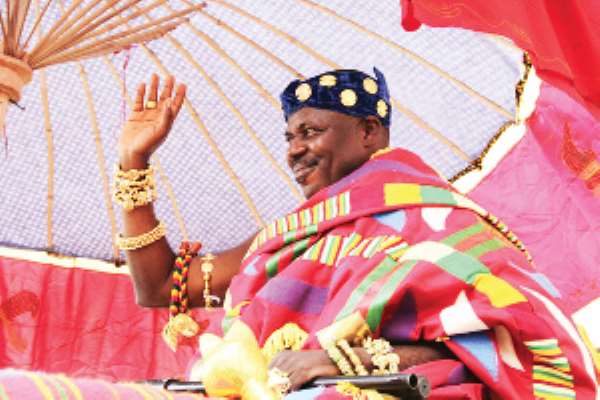 Barima Osei Hwedie II, Chief of Ejura in the Ashanti Region has denied having business transactions with the murdered Otumfuo's Asamponhene, Nana Kwadwo Fodour, as has been speculated.
He said though they all swear allegiance to the Manhyia Palace in Kumasi, the relationship between them is solely "acquaintance", and never invited him at his palace for business transactions.
Otumfuo's Asamponhene, Nana Kwadwo Fodour, was murdered by unknown assailants whilst travelling on the Ejura – Nkoranza road on Sunday August 18, 2019.
In media report, it is being alleged that the chief of Ejura invited the deceased for a business transaction in Ejura on Sunday and in the process met his untimely death.
Ejurahene, who is in Paris, France, in an interview on Otec FM's morning shows, 'Nyansapo', hosted by Captain Koda, on Monday, August 20, 2019, said he left Ghana on Friday and wondered how he could invite Nana Fodour on Sunday.
"I never invited Nana Fodour on Sunday for business transaction, he is not my business associate, and the relationship between us is 'greetings' when we meet," he underscored.
Ejurahene who said he will be in Ghana on Saturday, August 24, said "I have no clue in his death and I therefore plead with the public to assist the police with information regarding the death of Asamponhene."