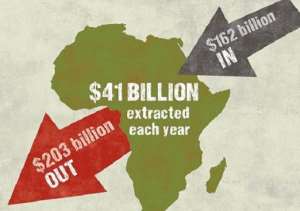 African leaders really need to stop the systematically looting of the continent by foreign governments
Unless you are not sincere or have a lot of money, therefore, don't feel the harsh economic impact on common Ghanaians, you will never admit that Ghana's economy is going through a difficult time.
African leaders don't know how to utilize the continent's resources, the reason, there is no job, no good source of drinking water, roads and medical facilities but the United States of America and Europe know the worth of African resources and would, therefore, do whatever it takes to steal from the continent.
There used to be a saying that "If you can't work with a penny to make a profit, you can't also make a profit if given a pound," because you have no skills and knowledge to run a successful business. The same applies to African leaders.
They are expert in corruptible activities than running a successful government or maintaining a sustainable economy, moreover, many of them have collaborated with corrupt foreign governments to create more difficulties for the common African.
Recently, while reading Italian news online, an article by an Italian writer, Renzo Rosso, captioned "L'Africa non è povera, anzi. Ma le multinazionali le stanno rubando tutta la ricchezza," caught my attention. I never thought a white writer can be so sincere to write such an article. Source: https://bit.ly/2TC9B1D
It is not every white man that is happy about the crime the US government and Western Europe commit in Africa but what have increased the woes of Africa, are the hypocrites among the people, who counter-attack articles or crimes by foreign governments in Africa, calling them false, senseless or conspiracy theories.
Sometimes, the more people attack other writers in some ways help them to excel because readers of my articles have increased more than expected, making me feel happy indeed. If you don't find something good in someone or not jealous, you'll not have time to read or comment negatively under his article. I have time only for my favourite columnists and do comment whenever I like.
According to the Italian writer '(translation of the title) "Africa is not poor, indeed. But the multinationals are stealing all their wealth,"
Renzo Rosso writes, "Angola, a former Portuguese colony, has a territory rich in diamonds, oil, gold, and copper: a great agricultural with potential fertile land still uncultivated, more than 95%, and a National Bank without heavy neo-colonial ties."
"According to data from the Monetary Fund, it has a GDP per the capita of 4.342 dollars. In turn, the Republic of the Congo, torn by corruption and civil war, is a former French colony, with a GDP per capita of 1,831 dollars, less than half of its neighbors, despite being equally rich in oil, gold, phosphates, and diamonds, but with an exclusively neo-colonial economy."
"They are not among the poorest on the continent, as the per capita GDP of various African states does not exceed a thousand dollars a year. But the divergence of their trajectories seems evident if 40 years ago the Congolese per capita GDP exceeded the Angolan one, 1,304 dollars against 669 dollars."
"Africa is not poor, but rich, little remains to Africa of this wealth, however, if African countries have undoubted benefits from foreign investments, they should be able to regulate these financial flows through laws that they do not have today."
"On the contrary, multinationals are allowed to legally raid much of what they get from the continent, through tax havens."
"According to an investigation by Al Jazeera, the so-called "illicit financial flows" exceed 6% of the entire continent's GDP, three times more than what Africa receives in aid. Not to mention the 30 billion dollars that these companies repatriate: all profits made in Africa but promptly transferred to the parent company, managed by European, American and, recently, Eastern financial centers."
"Not only that, about $ 29 billion a year is being raided in Africa by logging, hunting, and illegal fishing. And the damage that society and the African economy bear due to the fight against climate change amounts to 36 billion. Africans cannot use fossil fuels to develop as Europe has historically done."
"The climate crisis was not favored or triggered by the Africans, but they are the ones who pay the outcomes more than all the others."
"Help them at home? Western governments pose as generous benefactors who do their utmost to "help those who can't themselves," hypocritically often propagated by the media.
It's better if they stopped perpetuating the damage they are doing, forcing African governments to open their economy to privatization and their markets to unfair competition and do not transfer to Africa the sovereign impulses that are being imposed in Europe and in the USA."
This is enough because there is no need to translate the full article of Renzo Rosso about how the US government and Western Europe are gaining wealth in Africa, while the citizens which the wealth belongs to them are suffering.
If I had written this article by the Italian writer and posted on ModernGhana news site, believe me, you'll read from my enemies using false names that the article is nonsense or senseless.
This is why "I write what I like," a tribute to the late Steve Biko of South Africa and thanks to those who like what I write. I will never stop giving you the thanks you deserve from me.