Six pastors from Moving Bible Academy School had the privilege of being ordained on Saturday, August 10, at Moving Gospel Church International headquarter (The King's Palace) at Nungua - Nautical, Accra.
Moving gospel church international is founder by apostle Isaac K. Author in the year 2000 with the aim of reaching out and winning souls for Christ kingdom has grown to established Bible study academy to train potential men and women of God to be matured in the Lord in order to preach the gospel of Jesus Christ.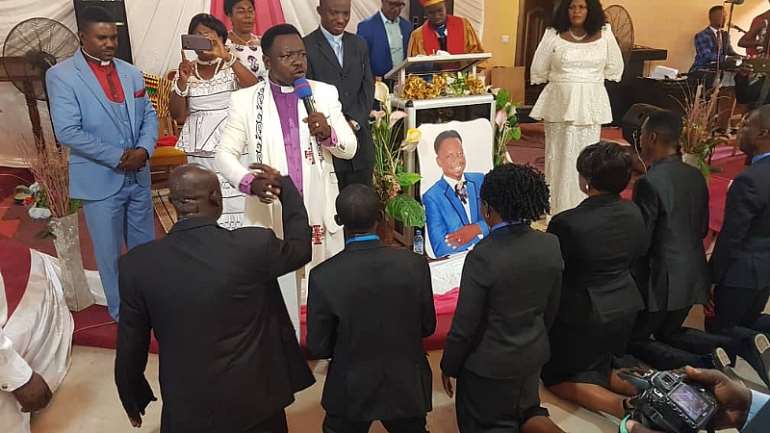 Hence, the ordination is in line with Jesus' command to Christians to go out to preach the Gospel in all parts of the world.
Bishop Ernest Joy Quaye, the Founder of Heroes Temple International who delivered the sermon, urged the pastors to keep their head up in all situations and endure hardship. He also urged them to preach and evangelise to the world.
"I further want to advise you all as men of God to wear the crown of righteousness and loyalty, adding that they should never give up in answering the call to minister the word," he said.
Apostle Isaac K. Author the Founder and General Overseer of Moving Gospel Church International, basing his preaching on 1st Samuel 16:13, Mark 3:13-15 and Acts 10:38 charged the ordained ministers to please primarily only God, who has called them.
He said their dependence on God ought to be paramount and total.
He further urged the ordained ministers to work within and outside the church with an accommodating attitude for all regardless of status, while recognising the potential within all persons.
Apostle Isaac K. Author inferred that men and women in the church are only ordinary people but for their affiliation to the Lord Jesus Christ and His church, they have been endowed with gifts of the Holy Spirit, which has made them mighty personalities.
He, however, added that they must humble themselves in order to enjoy greater grace from the Lord Jesus Christ.
Speaking on the functions of ministers Apostle Isacc K Arthur cautioned that, everyone must live within their scope of calling and avoid usurping the powers of others.