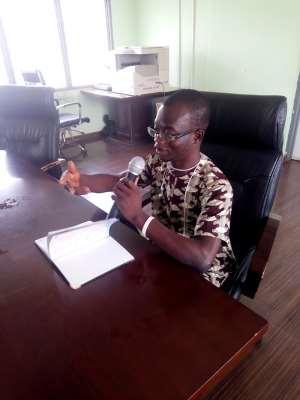 12th August was first designated International Youth Day by the UN General Assembly in 1999, and serves as an annual celebration of the role of young women and men as essential partners in change, and an opportunity to raise awareness of challenges and problems facing the world's youth. This year's theme "Transforming Education" highlights all the efforts to make education more inclusive and accessible for all youth, including efforts by youth themselves. As captured as goal number 4 of the Sustainable Development Goals (SDGs). According to the UN, there are currently 1.8 billion young people between the ages of 10 and 24 in the world.
This is the largest youth population ever. But 1 in 10 of the world's children live in conflict zones and 24 million of them are out of school. Political instability, labor market challenges and limited space for political and civic participation have led to increasing isolation of youth in societies. Education simply put is the gradual process of acquiring knowledge. Knowledge simply put is the psychological result of perception, learning and reasoning. This therefore implies that, Education has an impact on the reasoning and behavior of an individual and therefore, quality Education must be made easily accessible to the Youth across the globe in order to build a sustainable future.
The Theme for this year's International Youth Day is coined to help examine how Governments, young people, youth-led and youth-focused organizations, as well as other stakeholders, are transforming education so that it becomes a powerful tool to achieve the 2030 Agenda for Sustainable Development. Inclusive and accessible quality education is crucial to achieving sustainable development and can play a role in the prevention of conflict. Indeed, education is a 'development multiplier' as it plays a pivotal role in accelerating progress across all 17 Sustainable Development Goals, be it poverty eradication, good health, gender equality, decent work and growth, reduced inequalities, action on climate or peaceful societies.
Education should lead to relevant and effective learning outcomes, with the content of school curricula being fit for purpose, not only for the 4th industrial revolution and the future of work, but also for the opportunities – and challenges – that rapidly changing social contexts bring.
The crucial role that quality education plays in youth development is well recognized. In addition, comprehensive youth development benefits society-at-large. However, what is less known is the fact that young people themselves are actively championing inclusive and accessible education. Youth-led organizations, as well as individual youth, together with various stakeholders and Governments, should concretely transform education so that it becomes a fundamental tool both for sustainable development and for the full inclusion of various social groups.
As William Butler Yeats said, "Education should not be the filling of a pail, but the lighting of a fire", I therefore end by charging all Youth-led organizations, as well as individual youth to pick up the transformation of Education in every corner they find themselves through lobbying, advocacy, partnerships with educational institutions, the development of complementary training programs and also be innovative and start challenging the status quo for better transformation of the Educational sector.
Beloved youth activist, Youth voice is crucial to the overall effectiveness of service- learning programs. The Youth voice has a tremendous impact on program participation and program outcomes, both short term and long term it is therefore time we take our destinies and that of generations unborn into our own hands and stop depending on politicians. I finally wanna leave you with this quote by Robbert Kennedy and I quote "Youth voice is crucial to the overall effectiveness of service- learning programs.
Youth voice has a tremendous impact on program participation and program outcomes, both short term and long term"
Thank you.
Signed:
ABDUL-RAHEEM IBRAHIM TUZEE
Co-FOUNDER, Rescue Mission International 0241924890