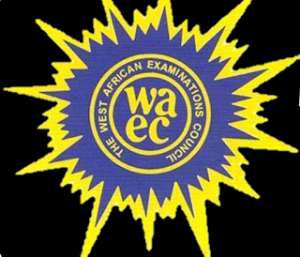 Dear Editor,
I have begun this column five times and torn it up five times because of its delicate and sensitive nature. From where the sun stands, I keep seeing the downfall of our educational system which is also the face of our God-given country, Ghana.
My grandfather once told me to always stand up for what is right even if I am standing alone and so I stand alone today to share my thoughts with Ghanaians, thoughts born out of what my eyes saw and the wireless messages I received.
I would have been more prescriptive and pontificate in my letter but I know I do not have monopoly of wisdom and that, columnists are supposed to leave citizens thinking. We do not prescribe answers, we appeal to reasoning.
Editor, a country that prides herself in high praise is one which education's examining body system provides qualitative and reliable educational assessment, encouraging academic and moral excellence and promoting human resource development and international cooperation.
It was not for nothing, therefore, that WAEC was instituted in 1952 as a non-profiting making organization with its headquarters in Accra, Ghana. WAEC was established after the governments of Nigeria, Sierra Leone, Ghana, Liberia and the Gambia enacted the WAEC ordinance in 1951.
Its objectives included conducting exams in the public interest and to award certificates, provided that the certificates did not represent lower standards of attainment.
Editor, I am in Ghana and not being on the grounds (Nigeria, Liberia, Sierra Leone and the Gambia) always has its disadvantages and so maybe I should spend my energies on WAEC matters in Ghana my country. As I sit in my room, my phone tells me (that) we are in July. The month after June in which this year's Basic Education Certificate Examination (BECE) was conducted by WAEC throughout the country.
On the 10th to 14th June to be exact, I personally got the opportunity and advantage at the same time to move round some of the examination(BECE) centers and to my utter dismay, there were ugly scenes which call for public vigilance and attention. I saw that Kwame Nkrumah's Ghana in the foreseeable future would suffer quality education because of the way and manner examination papers were leaking and the unguarded rate at which examination malpractices occurred.
What I saw could fill whole volumes but for fear of victimization and guilt and in the interest of brevity, I would rather give it a skeletal sketch so that my countrymen would give it a thought.
Editor, the heights by great men reached and kept were not attained by examination malpractices as sudden flight, but they while their companions slept, were toiling upward in the night. The case is not so in the way and manner WASSCE and BECE (perhaps including other exams) are conducted by WAEC in Ghana , the reason for which I decided to title my column ''WAEC has lost its shine and shin''.
That, Ghana "chops" last in the world's education ranking despite our free SHS is not a surprise to me. I must make it clear, that, some parents, teachers and proprietors of some schools are interested in getting hundred percent passes by any foul means only to tell the public that their schools are the best. It is shocking to me why Ghanaians are sometimes blinded by beautiful grades.
It will interest you, Editor, to note that some invigilators in Ghana have taken special pleasure in collecting money from the candidates right in the examination halls to solve questions for them. This matter is very disheartening and needs vigilance. Editor, the fact of the matter is that, in some cases, each candidate is made to pay 5ghanaian cedis, not every other day but every day.
Is not the Ghana WAEC itself laden with exams malpractices? I wonder if these invigilators want to play the good Samaritan. Ghanaians who also went round some of the centers would agree with me what I am saying without demur. Our invigilators have now fallen prey to the allure of money at the expense of morality. Is this not mediocre to decency and justice?
The supreme importance of any examination is to allow the learner to account for what has been learned over the period for decision-making. What I could decipher was that, success has now become a more-pay-as-you-go proposition, simplicita. What could be the gain if you have certificate that you are a teacher, engineer, doctor, lawyer, you name them, but you don't have its knowledge in the brain? To put it bluntly, Ghanaians have now become so warped that we now see examinations as incomplete without malpractices and leakages.
Rockson Kwaku Antwi( my learned writer) wrote these pleasant lines: ''for a nation to measure the quality of her education only by the rate at which the students pass their exams without taking into account their post –educational life or output is a short-sighted evaluation". BECE AND WASSCE are now time-wasting frivolity in my country. Some corrupt parents support the idea of paying money to receive some question papers and giving money to their wards to give to invigilators to be helped.
It will be a sorry day for Ghana if it is generally accepted that collecting monies from candidates to help them is not a bad practice. Education is our passport to the future, for tomorrow belongs to the people who prepare for it. But if this is the way we will handle our BECE and WASSCE, then we are going nowhere as a people. The future of these kids is unthinkable if we do not allow them to write their own exams and self-prepare their lives.
Editor, it is commonly said in Ghana that, Ghanaians obey the law when the policeman is watching. One needs not be a Jewish prophet or related to any to realize that this is the greatest lie of our time. Let me prove it: which exams center throughout the country was there not a policeman or policewoman? Per my checks, there were even "auxiliary'' police at some centers. Where were these police personnel during such illicit and indiscriminate collections of money from these helpless juveniles?
Who watches the policeman in my country, Ghana? Editor, look, let us not be enemies of our own progress. We cannot continue with the vulture mentality when it appreciates the need for shelter only when it beaten by the rain: Mistaken logic.
Let us see the need of giving these kids the space they need to be them and live true. In its universal sense, the ladle cannot serve anything if the pot is empty. These children have their own talents and potentials. If we allow them to acquire their own grades as fitting as they should, it would be music all along.
Let me put it in perspective that, if you examine how famous entrepreneurs started, you would discover that, most failed many times before they hit on a successful formula. It is a question of trying until the formula emerges. How do we expect these students to acquire knowledge and skills in novel situations if we start by solving examination questions for them? Let us seek to set standards that our future generations would celebrate with bells from one end of the country to another.
In the most recent stories, Prof. Austin Nwagbara, visiting Nigerian lecturer at UEW became a bad meat in the mouth of most Ghanaians because he said Nigeria has higher quality than Ghana in terms of education. To me, he did not say anything bad. He only gave an exact description of what the Ghanaian educational system is, but we saw him as nuisance and we sacked him. Why was he sacked? Was he not painting exactly who and what we are? Prof.Austin, be reminded that in my country, when you tell the truth, you are crucified, so next time say that not to get your peace.
Editor, to all the invigilators, teachers, finest policemen and policewomen and all WAEC officials who may suffer mental scars, self-guilt and shame from my column, I both apologize and from them beg forgiveness. Nonetheless, the truth must be said as Emmanuel Kant rightly puts it, ''if the truth shall kill them, let them die''.
I send a word of advice to HON. Wendy E. Addy-Lamptey (Mrs.), WAEC boss, to revise the way examination supervisors, invigilators and officials are recruited to supersede the said examinations. Teachers should eschew stooping so low because of just 5cedis a day, and let the Ghanaian police play their roles with despatch.
WAEC should also endeavor to pay these supervisors and invigilators their contract fees as early as possible to avoid corrupt minds.
Dear editor, I yield back the balance of my time please, and thanks a lot for the audience. I am a working citizen and not an idle spectator.
July 7, 2019.
COLUMNIST: Sorngmene Charles Yaatey.
Sorngmene Charles Yaatey is a University- Bulletin columnist.
EMAIL: [email protected]
PHONE: +233549889149