Too much time in the classroom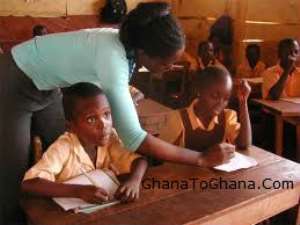 The focus of academic excellence from childhood through the basic schools to the tertiary has been a priority of the citizens and the government. The dream of becoming a professional such as a doctor, engineer, lawyer etc. has motivated, influenced and constraint the activities of students to spend all their vacations on classes and reading only examinable academic books.
Our educational system was designed to give some time off from the classrooms with vacations to students and teachers. The standard calendar of our basic and high school educations starts from mid-September and ends with the month of July [1] , with two breaks approximating to 50 days [2] which divides the calendar into three terms. This then leaves the month of August and the first half of September to serve as the popularly known long vacation.
The long vacation as designed by our predecessors is to be used for non-classroom activities such as learning a trade, starting a new hobby, farming, reading a novel or taking a sport. It is unfortunate that the quest of academic excellence has turned this vacation into a fourth term of classroom studies, its purpose has been lost over the decades especially with basic school teachers enforcing the attendance of the vacation classes and punishing students for absenting themselves. Another drive to this is the high competitions in entering into the tertiaries with only the highly academic inclined being favored.
Looking at the high and growing level of unemployment and the production of unskilled personnel from the tertiary, it is only right that we improve on the creative minds of our teenagers at basic level to equip them with problem solving before entering into higher education. The PTA should come together and promote a reform of trade learning or a sport for their ward. Sewing, metal fabrication, painting and woodwork are all trades that improve on the minds and expose the ward to new forms of challenge, giving the child first-hand experience into workplace issues and providing them an angle to look for in problem solving.
Concerns may be raised on the importance of a potential medical practitioner learning an unrelated trade, but it is to less easier to learn a new skill when you already have one, and surgery is a skill of professional physicians. A stable hand, breath control and courage needed to be a surgeon can be perfected at the welders shop.
For potential engineers and other applied scientist knowing any trade related or unrelated to your career is a plus and will be of great advantage in decision making. Imagine an electrical engineer with masonry trade task with designing the electrical system of a building, her decisions will be quick and there will be less time spent on consulting the mason.
For the business, law and social scientist, what better can you pick a project or case than to experience it. With your advance in educational knowledge and knowledge from a trade, you will be of great help in rewriting of the procedures used in our country, selecting the best accounting and administration process and also training of others.
With our teenagers learning all forms of trade and improving their skills, let's not forget the importance of knowledge acquisition through book reading (reading of non-examinable literatures). We should encourage and buy for them books from the best-selling authors and biographies of great entrepreneurs, politicians and philosophers. With these initiations, we can be certain that generations of skillful workforce and knowledgeable leaders will be produced.
[1] GES releases 2017/2018 academic calendar
https://www.graphic.com.gh/junior-graphic/junior-news/ges-releases-2017-2018-academic-calendar.html
[2] Weekends and holidays included