Service held in memory of Dr Limann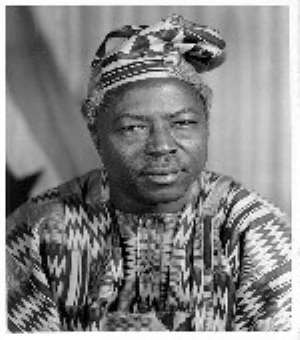 Accra, Jan 23, GNA - Family members, friends and sympathizers of the late Dr Hila Limann, a former President of Ghana, on Sunday gathered at the Ridge Church in Accra for a church service to commemorate the eighth anniversary of his passing away.
The anniversary falls on Monday, January 24.
In a sermon Mr Samuel Ken Otu-Boateng, a lay preacher, urged Christians to pray for the country's leadership all the time since this was one way of ensuring good governance.
He said although God's presence could be found everywhere, there was the need for men to pray before their needs could be provided. "We should pray to God to bless us with only good and righteous leaders and not those who would cause suffering to the people once they have power," he said.
Mr Otu-Boateng said the nation needed to be cleansed of its past sins that included various forms of human rights abuse, some of which resulted in death.
He urged Christians in the country to intercede on behalf of the nation and to ask God for forgiveness of its past sins and that cleansing was needed for the progress of the nation.
Among those who attended were party members of both the People's National Convention, the Convention People's Party as well as some former Ministers of State during the Limann administration. Dr Limann was elected President after winning elections on the ticket of the People National Party (PNP) in 1979 and was overthrown in December 31, 1981.