Peter The Apostle Was Never A Pope
Was Peter The First Pope?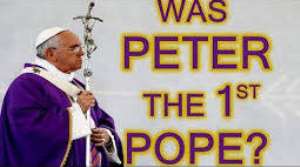 The Catholic claim Peter was a pope. Infact, they call him the first pope. But was Peter actually a pope?
For your information, The Bible or history never told us that Peter was ever a pope. Please let's get this knowledge right... Yes, Jesus told Peter to "feed his sheep" (John 21:17). But that didn't make him a pope. That only made him a shepherd. The word POPE is the Latin word for father. A father is different from a shepherd. A shepherd is a leader and that was what Jesus wanted Peter to be... "a leader" and not "a father"... Jesus commanded them "Call no man on earth father, because your father is one, and He is in heaven". Matthew 23:9
The Catholics refer to the pope as holy father or their spiritual father. The apostle Peter never considered himself a spiritual father to anyone and non of the early Christians considered him as such. This was because JESUS had instructed them to call no man on earth their spiritual father.
Neither Peter nor any of the early apostles had the guts to call themselves anyone's spiritual father (except Paul, and it remained an error on his part till this day) And the reason Paul made that error was because the believers at Corinth were too carnal; so, he was addressing them on their level... (1Corinthians 3:1, 1Corinthians 4:15).
The disciples called everyone " brothers". Even our Lord and saviour JESUS THE CHRIST did the same. He didn't call us his children, neither did he call himself our spiritual father. No, not even once! Jesus called us
* brothers/sisters. (Mark 3:35) and
* friends (John 15:15 )
The Catholic Church calling a man their spiritual father or pope is a direct antagony of JESUS and his instructions. The Catholic is telling the world that the Pope is your spiritual father(god). But people are too foolish to understand. That error has also been established in the Pentecostal churches and other denominations. For example, you hear people call Bishop Oyedepo of Winners Chapel their Papa; Rev. Oyahkhilome of Christ Embassy; Pastor Adeboye of The Redeemed Christian Church of God; Prophet TB Joshua of the Synagogue Church of All Nations etc their spiritual father. These men are anointed ministers of the gospel, no doubt... But this is not enough reason for their members to flaunt the instruction of Christ and start calling their pastors their spiritual fathers... If you truly study the Bible, you 'll see that it's not good... (Note: I use the clause STUDY the Bible and not READ the bible. This is because Jesus didn't ask us to read... He asked us to search(study)...John 5:39
To this end, I challenge you to search the scriptures yourself. Don't let your pastors do the searchings for you... Develop a personal relationship with God yourself. God deals with individuals and not groups... That's why the Bible asks you to work out YOUR salvation... Philippians 2:12 Don't forget, salvation is personal...
Note: You 're a child of God and not a child of your pastor...
John 1:12-13 ESV
But to all who did receive him, who believed in his name, he gave the right to become children of God, who were born, not of blood nor of the will of the flesh nor of the will of man, but of God.
Selah!