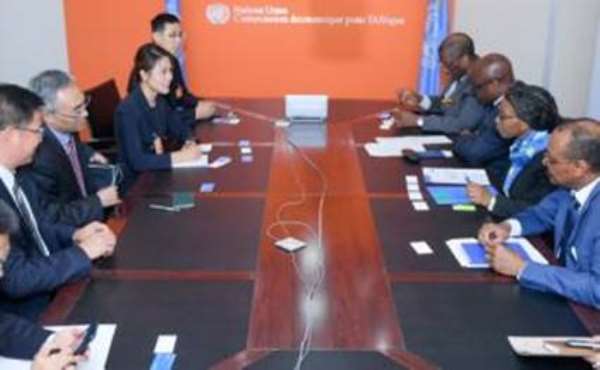 Economic Commission for Africa (ECA) Executive Secretary, Vera Songwe, on Friday met with a delegation from China's National Development and Reform Commission (NDRC) and had productive discussions on the implementation of the ambitious belt and road initiative.
The visit comes follows the signing of the Action Framework on the Silk Road Economic Belt and the 21st Century Maritime Silk Road between the ECA and NDRC in April 2019.
Mr. Zhai Dongsheng, Director General of the Belt and Road Initiative Centre (BRIC) led the Chinese delegation.
Discussions between Ms. Songwe and Mr. Zhai focused on identifying concrete steps to operationalize the Framework of Action between the two organizations on the belt and road initiative.
The ES Chief highlighted opportunities for concrete engagements on increasing investments, public–private partnership (PPPs), digitalization, energy, rail and transport connectivity in Africa, leveraging synergies of the BRI and African Continental Free Trade Area (AfCFTA).
They agreed on the need for joint collaboration on the broad areas of transport, rail, energy and digitization; emphasized the importance of the digital economy and the need to focus on pilot projects that can demonstrate results of the BRI.
"We have been successful in bringing the African perspective and the BRI people to people initiative together in a way that is constructive for both the African continent and China. The attention now is on what we can do concretely to move the BRI faster into the second phase of implementation," the ECA Executive Secretary said.
Ms. Songwe and Mr. Zhai also agreed to undertake joint training of African officials in PPPs for energy and infrastructure projects as the ECA continues to support the continent with policy recommendations that can help address its power and connectivity challenges.
"We are focusing the second stage of the BRI on implementation and we can work together on a number of specific projects," Mr. Zhai stated.
BRI was launched by President Xi Jinping of China in 2013 with the main goals being policy coordination, connectivity of infrastructure, unimpeded trade, financial integration and closer people-to-people ties.