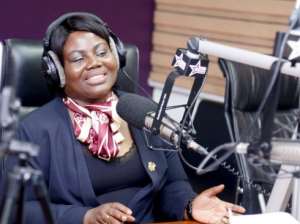 COP Tiwaa Addo-Dankwah
For sometime now, Truth and Accountable Governance (TAG) has been following with keen interest on how the Police CID is handling the kidnapping of the three ladies from Takoradi.
We must say that, we are very disappointed in the Police CID especially COP Tiwaa Addo-Dankwah for exhibiting lackadaisical and arrogant posture towards the family and Ghanaians. She has severally shown no commitment to locate and bring back home our innocent sister.
We thought by now, COP Tiwaa Addo-Dankwah would have humbly, come out to apologize and retract her unfortunate and disrespectful comments about the whereabout of these girls. But no, she is rather throwing her weight around arrogantly and continuously showing no sensitivity to the family of these girls and Ghanaians in general.
The most sickening aspect is how she is eyeing to the top spot of the Police hierarchy(Inspector General of Police). Ghanaians will be disappointed if this super Incompetence, ignorant and allegedly, corrupt woman is able to secure the IGP post.
We are by this release calling on President Akufo-Addo to immediately sack COP Tiwaa Addo-Dankwah since she has refused to voluntarily resign. The President should not hesitate to sack her if he wants to save himself and his government from further disgrace by the public. Ghanaians are sick and tired of the ignorance and incompetence of the CID Boss, COP Tiwaa Addo-Dankwa and her continuous stay in office is becoming a bane to public confidence in the police administration and a demotivating factor to the police force in the country.
We are therefore calling on the president to ensure her removal from office in order to restore hope and confidence to the family, the police force and the public as a whole.
Thank You.
......signed.......
Sirr Abdullah
(TAG- President)
(0246- 216 992)
Samed Kooli
(TAG- Organiser)
(0262497888)
Kwame Atuah Patrick
(TAG- P.R.O)
(024 265 7350)