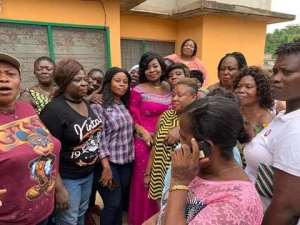 Hon Queenster Pokuah Sawyer with kidnapped girls families
The Essikado-Ketan District Police Crime Officer (name withheld) who is investigating the case of the kidnapped girls in the Western Region, has been transferred.
The District police commander of the same police command, Superintendent of Police, Peter Ofori Donkor,who initiated investigation on the case has also been transferred.
According to the victims families , the transfer of the two police officers came to them as surprise, judging from the emotional intensity of the case involving their daughters.
The situation they added, has left victims families in shocked as they doubt government sincerity in getting to the bottom of the case.
The kidnapped girls families disclosed this, when Hon Queenster Pokuah Sawyer, Member of Parliament (MP) for Agona East visited them on Tuesday May 14, 2019.
The female MP and a mother herself empathized with the parents and families and encouraged them to put their trust in the Lord to bring back the girls.
According to her, the police together with other securities have demonstrated their weaknesses when it come to security and safety of the people of Ghana as they're appeared not be on top of the kidnapped case to rescue the three girls who went missing closed to a year.
She said, it was expected that the government and the police be telling Ghanaians about the conditions of the girls whether they are alive or dead, stressing that the parents need to know their fate about their daughters so they could end the nightmare and the anxiety.
Hon Pokuah popularly known as Obataanpa, later presented assorted items including a bible, provision and toiletries, and an undisclosed cash amount to the three families at their respective communities.