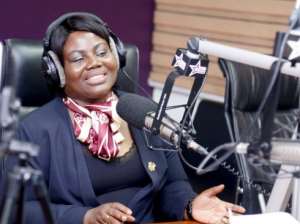 Maame Tiwaa Addo Danquah
A group calling itself Democratic Forum says the more the Director of the Criminal Investigations Department (CID) Maame Tiwaa Addo Danquah talks in public the more she kept provoking tempers with her unpathetic posture.
They are asking the CID boss to keep quiet about issue regarding the kidnapped Takoradi girls if she has no good news, apologize to the families of the girls and resign.
This follows the recent confusion surrounding a statement made by the CID boss concerning the location of the Tarkoradi Girls.
The CID boss said in a press conference that her outfit knew where the Takoradi girls were. Maame Tiwaa Addo Danquah however explained that when she said that the police knew where the three kidnapped Takoradi girls were, she said that to give the families hope.
And according to her, the girls have not been located and that the police was working assiduously to locate them.
To this, the Democratic Forum in a statement has described as unprofessional and insensitive the CID boss posture regarding the matter.
The group is of the opinion that the confusion created by the CID boss calls for her resignation and apology to the families of the girls and the entire country.
See attached pictures for the full statement: