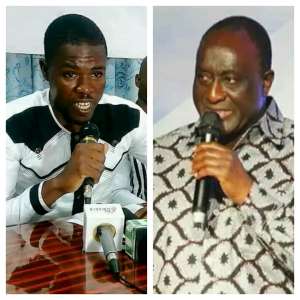 "The Ghana Youth Advocacy Movement, GYAM-Ghana has vowed to drag the Trade and Industry Minister, Mr. Kojo Alan Kyeremanteng to court if he sells the Komenda Sugar factory at $12million
The Group described the Trade and Industry Ministry's planned sale of the Komenda Sugar Factory as a Corrupt act.
The Director of Policy and Research of the Think Tank, Mr. Emmanuel Atanga told our news team that "a competitive bid for an assessment of 70% the $35m Company was placed in 2016. And investors were willing to buy about $25m of Shares from the factory at the time, So it's so ridiculous and unfortunate to note that the current Minister wants to sell the whole company for $12m".
The President in September 2018 disclosed that government is in the process of finding a strategic investor to revive the "debt-ridden and idle" factory.
According to him, the sale is due to serious deficiencies including the unavailability of sugarcane in sufficient quantities in the catchment area.
He also revealed that government has inadequate working capital required to make the factory functional.
Subsequently, the Trade and Industry Minister, Alan Kyeremanten told Parliament in April this year that, the factory will be sold to a new investor at a depreciated value of $12 million.
"They commissioned the factory in May and within two months they were already selling the factory. The evidence is clear. Those who were bidding for the factory two months after its commissioning, go and look at the figures they were quoting," Mr Kyeremanten told participants at a town hall meeting.
But reacting to the Minister's Comments, Mr Emmanuel Atanga said "there is absolutely Notting wrong if the previous government opened room for investors to buy shares from the Company, 2 months after its commissioning. And besides giving out only 70% of the company as shares for $25m was reasonable than today that we are told that someone wants to sell the whole company for $12m."
He cautions the Trade Minister( Mr. Alan Kyeremanten) to halt the intended sale of the Komenda Sugar Factory or risk being sued by the Group.
The Director, Mr. Atanga Emmanuel said contrary to reports that the factory cost $35m, the total cost of the entire project is more than that because
aside from the initial $35 million which were provided by the Indian government, the Export Development and Investment Fund (EDIF) made some contribution to constructing the access road to the factory which was $3.5 million.
"So we are now talking of $38.5 million and not $35 million," he said. We won't allow this Government to sell it at $12million.
Story By; Nana Agyemang Prince.