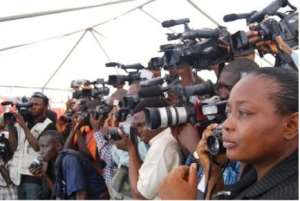 Our words are not guns. They wield no daggers, wear no boots, no helmets, and no shin guards. Yes, our words wear no armour. Yet, they're powerful enough to scare the hell out of the powerful, the rogue and the weakling.
Remember the testy exchanges President Donald J. Trump had with CNN's Jim Acosta?
Mr. Trump often refers to the American press as 'enemy of the people'.
In November 2018, he clashed with Cable News Network (CNN) reporter Mr. Acosta during a press briefing at the White House.
The journalist had asked Mr. Trump:
"Mr. President will you stop calling press the enemy of the people..?"
However, the question didn't sit well with the US president and he wouldn't answer it either. Instead, he tried to nudge the journalist but Mr. Acosta wouldn't be budged. The testy exchanges would last for a considerable amount of time as the press looked on.
When a journalist's life is threatened it sends shivers down the spine of the fraternity.
But the rogue who is a sworn enemy to peace labours relentlessly to cause mayhem. He never stops his predatory act, says this writer.
Must practitioners runaway when they sense a potential danger?
My advice is simple:
You take precaution. Utmost caution must be observed to save one's soul. Journalists must be wary of their safety and security in the dispense of their core functions--- informing, educating, researching and entertaining.
Mind you, it doesn't matter where you follow your beat or ply your trade. Also, be mindful that not everyone is enthused about what journalists do. As muckrakers, media practitioners have perhaps, made more enemies than friends.
"The good we secure for ourselves is precarious and uncertain until it is secured for all of us and incorporated into our common life," says philosopher and Nobel Peace laureate Jane Addams.
Are the Ghanaian Press being oppressed?
Across the world, journalists have been assaulted, jailed, gagged and killed for being assertive and carrying out their duties year in year out.
Nigeria's Dele Giwa, Saudi's Jamal Khashoggi and most recently Ghana's Ahmed Hussein Suale are a few of the many that had been murdered in the line of duty.
Many a time we're (journalists) forced to take a flight--run for our dear lives. Far away from home, we'll run to find a safe haven.
In recent times, the Ghanaian Press have witnessed a barrage of attacks from law enforcement officers (police and the military), chiefs, politicians and rogue elements in the society. However, these attacks, are not government-sponsored, I believe.
Closure of Radio Gold
On Thursday 9 May 2019, National Communication Authority (NCA) shut down two FM stations-Radio Gold and Radio XYZ for failing to comply with the ruling of Electronic Communications Tribunal (ECT).
"Radio stations operating without valid authorisation as determined by the 2017 FM Broadcast Audit are being shut down with immediate effect," the Authority stated.
It said, in line with Regulations 65 (1) of the Electronic Communications Regulations 2011, LI. 1991, which states that: "A person shall not use a radio frequency without authorization from the NCA."
One may ask: Why should the Akufo Addo-government be drawn into this case?
Here's the reason: It's because Radio Gold belongs to the opposition NDC
Thus, must NCA not enforce its regulations?
What signal would it send to other defaulting stations in the future? Wouldn't the critics describe it as a 'snoring' authority or a lame duck?
I wonder whether we would have heard this clamour had it happened to say a non-political -affiliated station(s)?
Remember, this is Ghana anything non-political is politicized. See, if a two-year notice served by the NCA to these stations couldn't result in compliance, then what else?
I feel sorry for the two stations. However, one cannot fault NCA for doing its work.
I don't know of Radio XYZ. But Radio Gold (situated at Latebiokorkorshie) is an old dog on the block. The station has been operating for more than 20 years.
So why did the NDC fail to bail out its own mouthpiece? The critics must answer.
Azure on the run or hideout?
Manasseh Azure Awuni a Joy FM /Multi-Media investigative journalist is reported to be running helter-skelter. Rumour has it that he sought refuge temporarily in South Africa. He's since returned to his native Ghana amid right security provided by the state. It's unknown how long the journalist stayed in the southern African rainbow nation.
Local media reports suggest he's been hiding from one place to another, probably hopping from a cab to cab and Tro-tros.
His pursuers crawl walk-in pitch darkness and in broad daylight-- aiming to kill him.
Is this what we get?
What does Press Freedom mean to a journalist if s/he cannot sit peacefully, freely and comfortably behind his or her desk and do that which s/he loves to do?
It's like one of those moments that you'd see the full Moon walk majestically across the stratosphere and give you that megabyte smile---virtually illuminating everything around you. But in a fleeting she disappears-- takes a deep dive into the sea of dark clouds.
She's gone hiding!
Government's Reaction
Kojo Oppong Nkrumah, Minister of Information, says the government is not aware that Mr. Awuni's recent travel outside the country was due to safety reasons.
According to him, the government had provided adequate protection for the journalist in the country when he initially complained about threats on his life over a video documentary he showed around March titled: "Militia at the Heart of the Nation."
The Minister emphasized that the NPP government would not renege on its commitment to ensuring the safety and protection of journalists across Ghana.
"Government through the National Security Minister provided the journalist with adequate security after he first complained about threats on his life.
We may disagree on matters but we will not encourage and endorse any attack on a journalist," Mr. Nkrumah said.
But who are Azure's pursuers?
Critics and conspirators of the ruling party hold the view that the President of the Republic Nana Akufo-Addo is the architect of this nefarious activity.
How ridiculous does that sound?
These critics most of the political rivals continue to spread this vicious obloguy in the hope that they will win the public sympathy and support.
And I should be explicit here: This is a wrong move. Indeed, you may not like the president, regardless of whatever good things he might do.
But must one or a group go down this route to demonize and portray him as an enemy of Press?
Why would the president pursue someone he perceives as enemy and at the same provide him security services 24/7?
I guess the critics have no idea how much that would cost the state?
Think about it, if you haven't done that yet.
Go figure it out, if you haven't thought through it.
And I think it's not only ridiculous for someone to finger the president but also it's outrageous for any person or group of persons to run with such a concocted story and brand it factual.
Rogue elements
In the wake of the hullabaloo, a section of the media had speculated that Azure had left the country due in part to the criticisms his documentary received coupled with the threats on his life.
Also, it's understood, this narrative was buoyed by comments made by Professor Kwame Karakari, Media Foundation for West Africa (MFWA).
Professor Karikari, while addressing a gathering to mark the 2019 World Press Day said Azure was virtually running for his life.
"In most of March and April this year, the very well known and respected investigative journalist of Multimedia fame Manasseh Azure Awuni spent virtually all of March and April this year running and hiding from rogue elements of unknown identities who were bent on a campaign to murder him," Prof. Karikari stated.
He said: "At first, Manasseh's employers kept moving him from hiding place to hiding place. The police came in to provide him bodyguards for protection during the day. Even this was not enough. The threat got so unbearable, the Media Foundation for West Africa had to step in to find refuge or save heaven for him in a foreign country."
But Mr. Nkrumah in a rebuttal said Mr. Awuni never made mention of that when he met him two weeks ago in Accra.
He said the New Patriotic Party (NPP) government is not anti-media freedom as claimed by critics of this administration.
"Press freedom is key to this government and the NPP has a record to support this point in the history of our governance.
The repeal of the Criminal Libel Law under the Kufuor Administration and the passage of the RTI under President Akufo-Addo are enough examples to buttress my point," he said.
Where does Ghana stand in the World Press Freedom index today?
The country's enviable standing at the Press Freedom Index has since dropped but not as bad as one might've expected.
Ghana lost its first position on the continent of Africa to Namibia.
This was contained in the 2019 World Press Freedom Index conducted by Reporters Without Borders. Ghana also ranked 27th out of 180 countries across the world.
The drop was attributed mainly to the murder of investigative journalist Ahmed Hussein-Suale earlier in 2019.