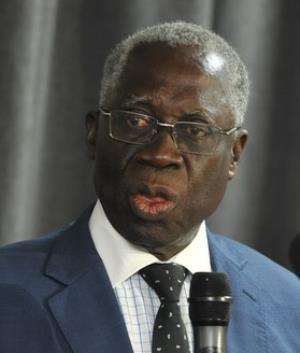 Yaw Osafo Maafo
Like the neo-Liberal politicians of the West, who are global-warming-deniers, Osafo Marfo and Co, haven't the faintest idea of the very serious threat posed to our nation's survival, by global warming, and focus solely on the pursuit of GDP growth, without ever pausing once, to look at what actually constitutes that growth, on the ground, in the real world. Incredible.
That is why Osafo Marfo & Co can contemplate the destruction of the Atewa Forest Reserve, in exchange for US$2 billion from SinoHydro, to fund infrastructure projects, without it pricking their sodden consciences.
Yes. Hon. Yaw Osafo Marfo is a very successful gentleman, who has achieved a lot in life. That he is a highly-intelligent gentleman, who is brilliant with figures, is also not in doubt. But the truth of the matter is that he hasn't a clue, about what the global icon, 16-year old Swedish environmentalist, Greta Thunberg, is demanding that the world's leaders commit to. That is serious. Very.
And, on top of all that, he also has a calcified world-view that makes him an unreconstructed Akan tribal-supremacist, totally unfit to hold the position of senior minister, in a nation in which the vast majority of ordinary people, now accept that no tribe is superior or inferior to another. (Incidentally, I am of Akan heritage myself, and therefore know exactly to what I refer, when I talk about Akan tribal-supremacists. But I digress.)
President Akufo-Addo will never leave a good legacy (achieving most of the 2030 UN SDGs, i.e.), even in an 8-year tenure, as long as cynical men like Yaw Osafo-Marfo, play a significant role in administering our country, under Nana Addo's presidency. Hmmmm, Oman Ghana - eyeasem o - asem kesie ebeba debi ankasa! That is why the time has now come for President Akufo-Addo to demand the resignation of Yaw Osafo Marfo. Haaba. We rest our case.