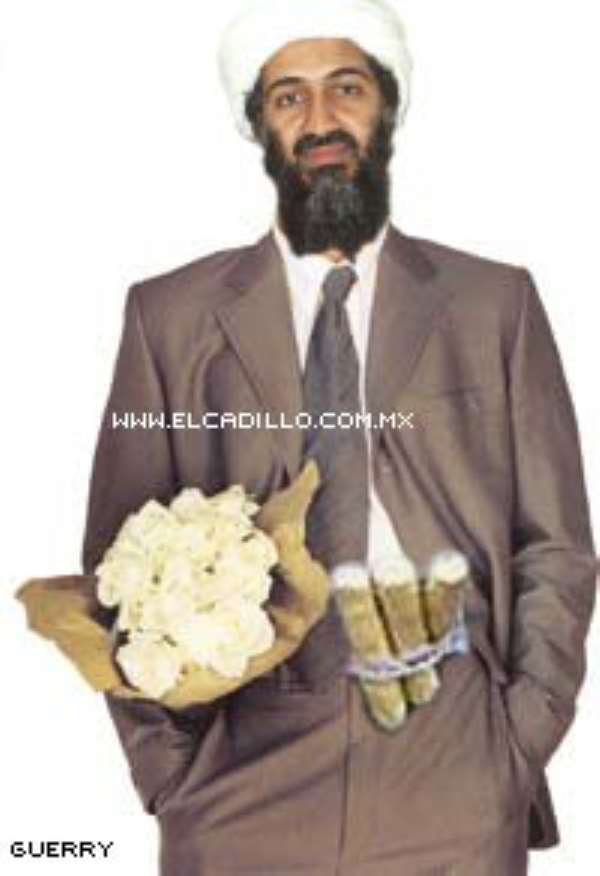 Daily Guide -- A 36-year-old Ghanaian national, Mohammed Gazali, is among a number of suspected Al-Qaeda members being held by Spanish security authorities over their links with the extreme Islamic organisation. The other nationals arrested alongside the Ghanaian national, hail from Egypt, Morocco and Algeria and were picked separately in Malaga, Sevilla, Lerida and Nerja all Spanish cities.
The Ghanaian national, who is said to have links with the Hamburg Mosque, where the infamous September 9/11 New York bombings were planned was born in Accra, and was until his arrest the Imam of the La Union Mosque in Malaga, a Spanish city.
Gazali is on record as issuing forged documents to the Hamburg Mosque in Germany, through a courier named Mohammed Mabehour, a 50-year old Moroccan and former Imam of Malaga Mosque. Other details stumbled upon by Daily Guide has it that the suspect also engages in trafficking of African immigrants to Europe and the United States of America.
The Al-Qaeda is a body of extreme Islamists which has embarked on recruitment of loyalists from various parts of the world. In recent times, American intelligence gathered that there is a possible shifting of grounds by the organisation to Africa especially sub-Saharan part of the continent where poverty is very high.
It would be recalled that the Al-Qaeda organization came to the limelight when it struck the World Trade Centre twin-towers on September 11, 2001 resulting in over 3,000 deaths.
Osama is a Saudi national, but Saudi Arabia itself has not been spared the nefarious activities of extreme Islamic organisations, having engaged them in fatal exchanges in recent times. It is not clear whether Osama is dead or alive, even though occasional messages, broadcast over the Arab TV network, Al Jazeera are attributed to him.