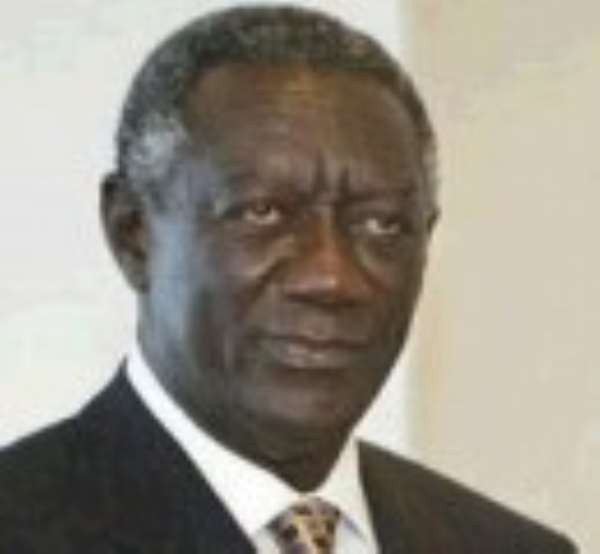 Accra, Dec. 31, GNA - President John Agyekum Kufuor has called on all Ghanaians to rally to rededicate themselves and pull together in the same direction, as one nation with one common destiny.
"With this, we can make the year 2006 a highly successful one", he said, in a televised New Year Message to Ghanaians on Saturday. He urged Ghanaians to focus on economic and social growth with justice for all and malice against none.
He said the spirit of fellow feeling should drive the nation and asked Ghanaians to eschew cynicism; negative speculation, sterile and unpatriotic conduct.
"As we conclude 2005 and ring in 2006, let us all appreciate that each and everyone of us has a significant role to play in the building of our country."
President Kufuor said there was so much goodwill laden with many opportunities in terms of business, social development and cultural improvement among the comity of nations.
For this reason, he said it was important that Ghanaians worked really hard on the country's priorities of human resource development, private sector development and continued good governance.
"We must continue to order our affairs with confidence, with clarity of vision and with unity of purpose. We cannot fail when together we proceed with one vision," he said.
President Kufuor said a series of natural disasters of apocalyptic dimensions hit different parts of the world in 2005 but Providence spared Ghana and therefore entreated Ghanaians to count their blessings for been mercifully spared from many of those hair-raising occurrences. "Nevertheless, I must also bring the negative occurrences in our country to the fore, if only to make us more cautious and even wiser in the in the coming year."
President Kufuor mentioned indiscipline and unruly behaviour among some people in different parts of the country which over-stretched the limited resources for national security and the unresolved Yendi Crisis, despite, continued efforts of Government and the Committee of Eminent Chiefs as well as other well wishers to reconcile the divided royal family of Dagbon.
Besides, he said, some sections of the media had also become purveyors of rumour and defamation, which were plainly abusive of other people's human rights and many a time subversive of the national good.
"Clearly, these sections are yet to adjust to the good governance imperative of the responsibility that must go with freedom of expression," he said, adding: Happily, the nation has displayed great resilience throughout the year and remained on course. Now law and order, respect for human rights, stability and security remain the significant features of the day".