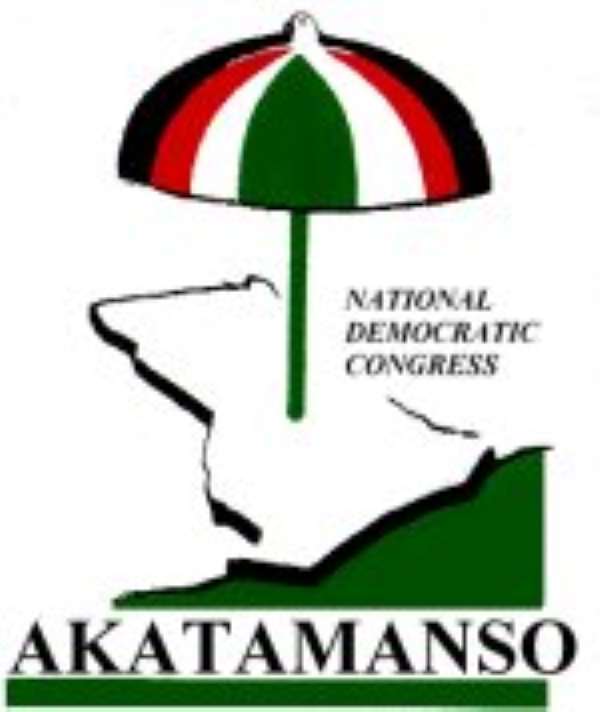 Techiman, (B/A) Dec. 30, GNA - Mr. Daniel Osei Kuffour, Special Assistant in-charge of Special Duties of the National Democratic Congress (NDC) in the Techiman Municipality, has said that, NDC capable of going through the process of democracy to elect credible leaders. He said that the process of current struggle for positions in the party and the subsequent election of good leaders during the last delegates conference held at Koforidua was laudable to the effect that a good leadership had been chosen to steer the affairs of the party to win back power in the 2008 elections.
Mr. Osei Kuffour was addressing ward Chairmen of the NDC members of the Techiman South Constituency on their return from the delegates conference at Techiman on Sunday.
He said, politics was about good leadership and how to improve the living conditions of Ghanaians and urged the leadership of the NDC to work hard to maintain the dignity and respect the people have for the party.
He commended the NDC Parliamentarians who had lived up to the task of ensuring a better life for all Ghanaians as has been manifested in their performance.
Mr. Osei Kuffour said the current status of the party as one in opposition calls for unity and formulation of pragmatic strategies as well as hard work from functionaries of the NDC to get the vision through.
He said the resignation of NDC members, especially Mr. Kwaku Baah and Ms. Frances Assiam was a political move that would not affect the future of the party towards winning the 2008 election.
Mr. Adjei Mensah, Propaganda Secretary for Techiman South Constituency expressed appreciation to the members of the party in the Techiman Municipality and the region and called on members to increase their resolve to work harder to achieve success, adding, "the NDC is poised at winning back power in 2008 elections." He urged the members to vigorously campaign for new members to join the NDC.